Early run lifts Cougars past SR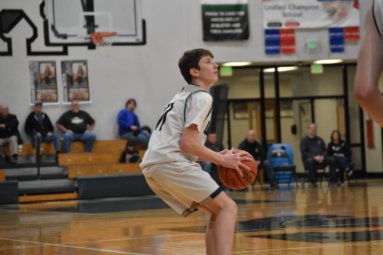 PHOTO BY AMANDA BETZ
South Ripley boys basketball was ready to get the bitter taste of last year's Class 2A Sectional 44 semifinal upset loss to South Decatur out of its mouth last Saturday night but the Cougars again denied the Raiders, this time around a 69-62 regular season win in Versailles.

South Decatur (4-3) used a pair of early runs to get the job done and then pulled away late in the fourth quarter. The Cougars led 16-11 at the first stop before using a 17-11 spurt in the second quarter to extend the lead to double-digits by halftime.

South Ripley clawed back into the game with a 21-12 third quarter run and trailed by a lone possession but the visiting crew from Westport put to rest an extended comeback attempt, outscoring the Raiders 24-19 in the final stanza to hold on for the eventual seven-point victory.

It was another big scoring night for South Decatur's Hunter Johnson who shot 13-of-19 from the floor and led all scorers with 35 points. 15 of his 35 points came from the three-point line and the senior also totaled six rebounds and four assists. Jacob Scruggs joined him in double figures with 15 points.

The Raiders put four of their five scorers in double figures. Nick Schwarte scored 18 points while Zach Gentile scored 11 of his 15 total points in the second half. Blaine Ward and Dalton Smith each scored 11 points.

South Ripley played Shawe Memorial in an Ohio River Valley Conference game on Monday night as part of a rescheduled date due to COVID protocol at Shawe. That game will be detailed in next week's paper as Monday's game did not end until late.

The Raiders entered Monday with a 2-3 record and open the Hoosier Shooting Academy Holiday Tournament at Morristown on December 29 against Clinton Prairie. That game begins at 1 p.m.