Ebel inducted into Maryland HOF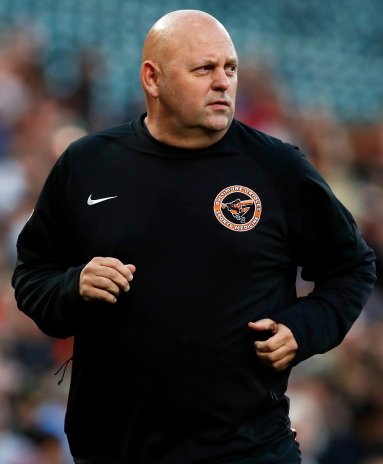 PHOTO COURTESY OF KYSPORTS TV
A Versailles native, South Ripley graduate and one of the most respected athletic trainers in professional sports has been elevated to Hall of Fame status after Brian Ebel was recently inducted into the Maryland Athletic Trainers' Association Hall of Fame.

The induction was made official on June 11 as part of an official ceremony hosted by the MATA. Ebel is also set to receive a national award as well this summer recognizing him as one of the top athletic trainers in the entire country.

"This award means a lot to me," Ebel said in an interview in Baltimore earlier this month. "I think a spot like this just really validates what us athletic trainers do here in the state of Maryland and what we contribute to athletics. It really means a lot to me and I am very humbled by it."
Ebel is currently in his fifth year as the head athletic trainer for Major League Baseball's Baltimore Orioles, the same organization he has served in for the past 38 years. Of the 38 years, 26 have been spent in the big leagues after working his way up through the minor league ranks. He served from 1992 to 1996 as Baltimore's Head Minor League Trainer before being called up to serve with the big club.

In his major league tenure, Ebel has played a vital role in the MLB's various health and injury prevention organizations, having spent 14 years on the Major League Baseball Medical Advisory Board. He was a member of the training staff for the American League in the 2007 MLB All-Star Game and traveled with the MLB All-Star Series team that competed in Taiwan in 2011. That same year, his Orioles training staff was named the MLB Athletic Training Staff of the Year.

A graduate of Eastern Kentucky University, Ebel received his Master's Degree from Johns Hopkins University and received a faculty appointment at the school as an Assistant Professor of Orthopaedic Surgery in March of 2021. January of the following year saw him named the Most Distinguished Athletic Trainer by the National Athletic Trainers Association for his contributions to professional baseball and work done with the Baltimore Orioles.

"I had a work ethic instilled in me at a very young age," Ebel noted. "My grandfather was a big influence on me and really my entire family. I come from a family of educators and obviously there are several people at the professional level who have been a big influence. My staff is excellent and they are great support. I feel obligated every day to work hard and not let them down as their leader."

Ebel is just the fourth head athletic trainer for the Orioles since the franchise moved to Baltimore in 1954. A 1984 graduate of South Ripley, he will be returning to the area on July 29-31 when the O's play the Cincinnati Reds at Great American Ballpark in a three-game weekend series. Friday and Saturday games each start at 6:40 p.m. while Sunday's tilt begins at 1:40.