Eckstein dominates Lauf Run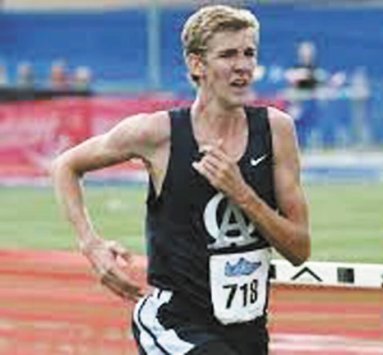 PHOTO COURTESY OF MILE SPLIT ONLINE
Oldenburg Academy graduate Curtis Eckstein is already a member of the institution's Athletic Hall of Fame for his storied career in both cross country and track and field. His legend has continued well past his high school years after the former Twister won his fourth-straight Freudenfest Twister Lauf 5K on Saturday.

The morning event on Saturday paired with the weekend festivities at Freudenfest in Oldenburg. Freudenfest made its return after a two year hiatus due to COVID-19 although the Lauf Run remained during that time. Eckstein's win streak in the race dates back to July of 2019 per the Stuart Road Racing website.

Eckstein, 23-years-old, won Saturday by a little over four minutes, crossing the finish line in a time of 15:33. Carter Walsman, a 17-year-old from Batesville, was runner-up for the second consecutive summer at 19:40 while another past second place finisher to Eckstein in Oldenburg graduate Tyler Kuntz ran third in 20:24. The top five overall was rounded out by Braylon Brancamp of Greensburg in 21:16 and Isaiah Frey of Oldenburg at 21:17.

23-year-old Dave Kuntz of Batesville was sixth at 22:00 and 38-year-old Deanna Raver of Batesville was seventh in a time of 22:45. Raver claimed top female honors in the race. A total of 44 racers -23 male and 21 female- ran in the 5K.

The remaining field that was listed in the results with a coverage area address included: David Raver, Batesville, 11th, 24:47; Caitlin Raver, Batesville, 12th, 24:47; Jim Bruns, Batesville, 15th, 26:40; Gary Wintz, Batesville, 16th, 26:43; Kathy Cooley, Batesville, 22nd, 30:42; Amy-Jo Siebert, Batesville, 29th, 32:22; Joe Giesey, Batesville, 31st, 33:15; Robin Ernstes, Batesville, 36th, 37:07; Viviane Ernstes, Batesville, 37th, 37:08; Flo Giesey, Batesville, 42nd, 41:32.

Proceeds from the Lauf Run go towards Oldenburg Athletics and its various teams throughout the entire school year. The race and food booths ran by the Twisters at Freudenfest are one of the school's biggest fundraisers.