Event planned to help build new fire house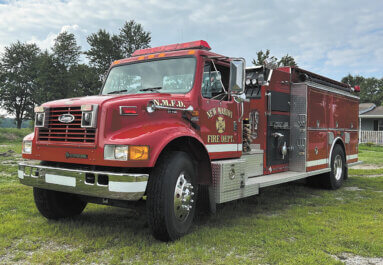 The New Marion Volunteer Fire Department was born out of necessity during the '70's. After a fire raged through a house and was nearly taking two more, Melvin Meisberger said he knew the small town needed their own department. A small structure was built, and the department has used it since that time.
They have literally outgrown the firehouse. It isn't even big enough to clear some of the taller equipment they now use and has long been bursting at the seams due to membership. The roster includes 17 at this time with no place for training, housing equipment, etc.
When Levi Beiler Jr., a firefighter on the department, brought a plan to the firemen, they soon realized they could have the building they needed on a budget they could afford. Levi told The Versailles Republican his community of Amish were willing to provide labor to construct the new fire house. This would be done without using taxpayer money.
The total cost was not calculated, but it was soon figured out that they could do the plan and get the needed house with some fundraising events.
One such event has been planned for October 21. A Consignment Auction and Fundraiser will be held beginning at 9 a.m. that day at the Southeastern Indiana Produce Auction located at 5994 South U.S. 421, Versailles. All the proceeds will go to the New Marion Fire Department. Of course, those bringing items for consignment will get their money for the item, but any money above that will not be taken by the auctioneers who are volunteering their time and space to help out the fire department.
Already on the list is semi tractors, a 455E John Deere Highlift with Clamshall bucket, semi van trailers, guns, four-door F350 Ford, furniture, toys, and much more.
You can turn your items into cash and help the fire department at the same time. They are still taking any type of farm equipment, lawn & garden equipment, tools, guns, household items, poultry and more for the event. Contat Beiler Auctions today at 812-667-0050 or 812-593-7049. This auction will be held rain or shine. Also there is online bidding available at www.equipmentfacts.com To see pictures of items already consigned go to the Southeastern Indiana Produce Auction Facebook Page or www.AuctionZip.com. Just don't be left out of this event that will have something for everyone and help your neighbors so they can help you!