Every child should have books to read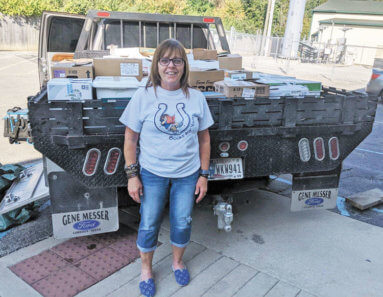 SUBMITTED PHOTO
Books, books and more books! Tina Asche cannot get enough books! She has already delivered 9,027 books to Indianapolis for Books for Youth, a program the Indianapolis Colts, Cargo Services, Inc. and Indiana Department of Child Services work together.

"Books were always important at our house," Asche told the Osgood Journal, and she believes every child should have books in their hands. The books that are taken to Indianapolis are passed out in Colts' backpacks to children in the foster care system in Marion County. This is the third year Asche has participated in the program, which she believes changes children's lives. "I see a lot," she noted, being a clerk at the Ripley County Department of Child Services. "I see kids who are less fortunate and a book means a lot to them."

Her husband, Al, has been on board helping her from the beginning. The first year it was just Tina and Al taking the books to Indianapolis. The second year, they enlisted the help of some of their children and grandchildren, totaling eight people going to take books. "This year I'm not sure who all is going," she laughed, as she told about already delivering over 9,000 books, which is 1500 lbs. of books!

But, Tina hasn't reached her goal. So she's still collecting books for children and young adults. They can be new or gently used. "I will have 10,000 books this year…I just know it," she said. So, if you have some books, or know someone who has books they would like to donate, you can take them to the Versailles Dept.of Child Services at 531 W. US 50 in Versailles, or call 812-689-6295 to have them picked up.

The project began in 2006 with nearly 850,000 books being collected and distributed since that time. Each foster child receives a Colts backpack with 25 books inside.

Tina, who has worked at the Versailles office for 17 years, noted that if everyone would do just a little, it could mean a lot to children who are in crisis situations. So far this year, she's received books from New Point Quarry who got books from the Batesville Library, Milan Schools, Hanover Elementary, people who just dropped them off at the office and members of the Versailles staff.

On November 17 Tina will be taking the remainder of the books she collects to a Colts' game in Indianapolis.

Be a part of something bigger. Take the time to take some books to Tina's office, or if you have several, give her a call. An act of kindness doesn't go unnoticed by children.