Explosion claims life of Benham man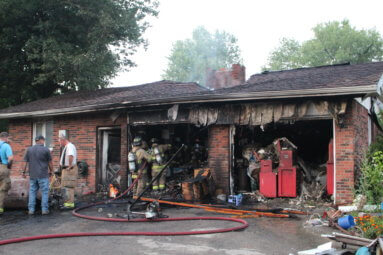 WANDA ENGLISH BURNETT PHOTO
An explosion at 6158 Benham Road claimed the life of 83-year-old Kenneth Hayes, who was the homeowner, along with his wife, Gladys. Versailles firefighters responded to a 911 call from the home around 5 Tuesday evening, July 27.

"I heard and felt the explosion," Gladys said. "It moved a trinket on a shelf" (inside the house where she was). I opened the door (that leads from the kitchen into the garage) and there was nothing but flames," she noted. She said she then ran outside with the phone in her hand calling 911 and searching for her husband.

Family members said Kenneth had been working on a project by the garage doors when something went terribly wrong causing an explosion. The explosion ignited the inside of the garage as the doors were open. Firefighters were able to stop the flames from taking the entire house, but there is severe damage whether it be from fire, smoke or water.

Indiana State Fire Marshal Ross Keasling was on the scene Tuesday evening. He didn't release any information as the fire/explosion was still being investigated. While family members said they knew it was an accident, the standard procedure is to investigate the cause of a fire.

Versailles Fire and Rescue were on the scene for nearly six hours and suited up at least once more than the initial time, when they saw hotspots in the garage/kitchen roof area.
Friendship Fire Department provided initial mutual aide with Napoleon and Osgood bringing tanker trucks to the scene. Aurora Fire Rescue brought their rehab vehicle, which carries nourishment to replenish the firefighters due to the hot temperatures and high humidity on Tuesday evening.

Ripley County EMS, Ripley County Coroner and deputies from the Ripley County Sheriff's Department were on the scene.

Versailles Fire Chief Ben Sieverding thanked Sara Liming and Main Street Versailles for the food they provided when firefighters returned to the station after the long evening. He said, "Our thoughts and prayers are with the family in their time of loss."

The family maintained a presence of faith through grief at the home Tuesday evening and said their faith still holds. Pastor Jerry Vandervort from the Concord Wesleyan Church was with the family soon after the explosion and maintained a presence there, praying and counseling those who wanted this act of Christian faith. Faith, family and friends will sustain them during this time.

Services are pending at Stratton-Karstetter Funeral Home, Versailles. An autopsy was performed Wednesday morning according to Jason Bailey, Ripley County Coroner.