F.A.R.M. Club Show set for next weekend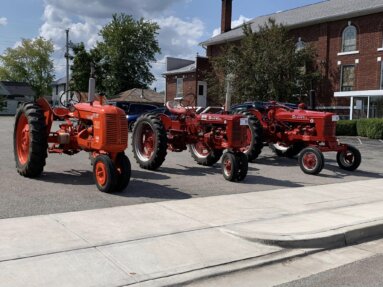 Mark your calendars now for a full three days of fun at the F.A.R.M. Club Antique Machinery Show that will take place June 22, 23, and 24.
The event will be held at the Ripley County Fairgrounds Park in Osgood with something for everyone.

The B.F. Avery Collectors & Associates National Summer Show will be hosting with B.F. Avery Tractors & Equipment being featured. The featured engine is Maytag and the featured Garden Tractor is Massey Ferguson.

There is much more at the 26th annual show. There will be a large variety of hit-n-miss engines, oilfield engines, blacksmith, sawmill, thrashing, and more. They will be celebrating the 100th anniversary for the John Deere Model D Tractor and all 1923 year tractors.

Music by Marisa Fullenkamp will be on Friday night, June 23 from 6:30 to 9:30 p.m. Bring your lawn chairs, leave your worries behind, and enjoy some old-fashion outdoor entertainment.

Find out about the Battle of the Bluegrass Pulling Series that will take place on Saturday at 7 p.m. by going online at www.bobpulling.com