Faith, family and friends brought her home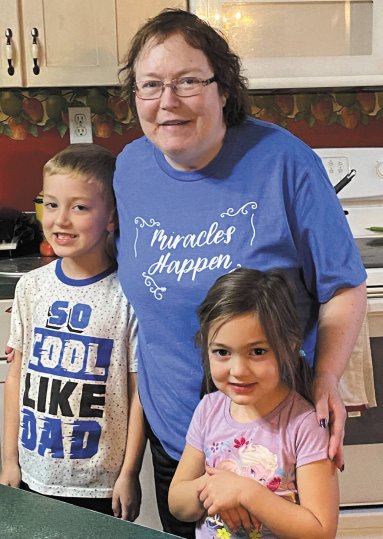 WANDA ENGLISH BURNETT PHOTO
Counting blessings was kind of hard for the Tom Hughes family of Osgood, this year as they gathered for Thanksgiving because they have so many. Theirs is a story of ups and downs, hope and despair, positive and negative and the list continues.

Donna Hughes, 56, felt bad at work. She felt so bad that Dave Osborne, her supervisor at the Ripley County 4-H Extension Office, told her she should go home. That was in August of 2021. She went home and then to the hospital where she spent the next 15 months, (between hospitals and rehab facilities) many times barely holding onto life as she battled COVID-19.

"It's been quite a journey," Donna told the Osgood Journal, "and I don't even remember a lot of it."

The journey is one her husband, three daughters, grandchildren and mother, along with a host of other relatives and friends say was quite emotional.

"God, prayers, family support, and getting cards in the mail from people I don't even know really got me through," Donna said as tears ran down her face.

Just being in her own home is a miracle according to Donna's family, who said doctors told them often she wasn't going to live. But, she gets stronger every day sinceshe came home on November 16, 2022, and just last week began walking a few steps all by herself.

"I want people to know that miracles do happen!" Donna exclaimed.

From the very beginning the medical community did not give the Hughes family much hope. She was initially taken to Margaret Mary Hospital and by September 22, 2021 she was moved to Columbus Regional Hospital. On October 8, 2021 she was taken to Kindred then in another month on November 9, 2021, she went to Envive in Lawrenceburg. She was only there for six days when she was taken to the Highpoint Hospital (Lawrenceburg). From there the journey continued to Bethesda North on December 2, 2021, and by January 12, 2022 she was at Parkside (nursing facility), but was immediately taken that day to Mercy Hospital where she stayed until January 20, 2022. She went back to Parkside, Envive, Mercy Hospital, Parkside etc.

"They just kept moving me," she noted, saying she felt if she hadn't been moved so much it might have been better. However, insurance protocol is another battle the family had to fight throughout this time just to have the necessary medical care.

Donna's husband, Tom, was also sick during this time with COVID-19 and was trying to work. He said without the help of a community of people who came together for them, he's not sure how things would have been. "I want to thank the company I work for – Comer Buildings – for all their support and understanding," he noted.
Phrases like – "you need to come now", "she will never get off the ventilator","she's never going to walk" , "doesn't look good", and "very bad" – were all part of the new normal for the Hughes family. Over and over they would hear that Donna might not live through the night, and somehow the next day she would be sitting up. Well, they say they know how it happened – God was in the details.

"People were praying from all over the country," Tom said as he remembered the thousands of messages, texts, cards, and calls the family received with prayer chains from every denomination of churches on board. "I'm very humbled by all the prayers," Donna shared.
Donna's daughter Kaitlin Harrell shared that she remembered the pivotal moment when her new reality settled in. Her sister, Jenna, just told her how it was. The three sisters that includes Meagan Hughes, knew they would band together, but Kaitlin said sometimes her faith would waver. "My dad never gave up. He said we were bringing her home and we did," she noted.

It was a combination of relying on God, perseverance of family and friends and sheer determination on Donna's part that brought her back to her home near Osgood.

Surrounded by all the love, Donna said even when she didn't know anything, she knew she was loved. She had a wall full of photos, little notes, and reminders that she is one loved woman.

Children of Kaitlin and Mitch Harrell, Laken, 4, and Zeke, 6, said they always prayed for "Meemaw". "Even when I didn't think the outcome would be what we all wanted, the children prayed. Every night." Kaitlin shared.

Learning how to eat, dress herself and many things adults take for granted, Donna says her physical therapist and occupation therapist and home nurse continue to give her great support. They also continue to be amazed at her progress, which again the family says all the credit goes upward.

Her first words after many months of not speaking were "I want to go home". Home was definitely where Donna's heart was. After having a family member or friend at the hospitals or nursing facilities for 15 months, they were all glad to have her home!

Donna's mother, Linda Tieman, 82, of Holton, drove to any place where her daughter was sent. She has been a strong support and continues to spend every Thursday and Friday with Donna at home. Her good friend, Darla Westerfeld, also comes three days a week to help. She was another stalwart warrior in the fight to get Donna home.
Donna's sister, Lori Burkhardt of Aurora, was also at her side and being a nurse, she was able to communicate medical terminology to the family.

Surviving what doctors say only 20 percent of the population did after being put on a ventilator, Donna says from having bed sores that went to the bone, being septic, black and blue from falling out of the bed, to being at home, she is thankful. Tom said he just couldn't give up on her and Kaitlin said she has learned that "we are not in control."
Donna has no intention of sitting around at home. She has already been to two churches – Fink's United Church of Christ and Zenas Baptist, where she thanked them in person for their prayers and love. "I'm going to try to go to some others like Dabney Baptist and Hopewell Baptist," she said.

"I could never thank my family, friends, and this community for everything they have done for me and my family," Donna concluded. She said the response was overwhelming and wonderful. People showed up. "God truly exists, and miracles do happen," were her parting words.

The Hughes family Christmas lights have been up since December 2021 and will remain in place at least until the first of 2023. "When I put the lights up in December last year, I just couldn't take them down until Donna came home," Tom noted. His neighbors and friends knew Donna was still alive because the lights burned brightly. That light of love still burns and the family remains a symbol of bright hope in an otherwise dark world.