Family: defined by true love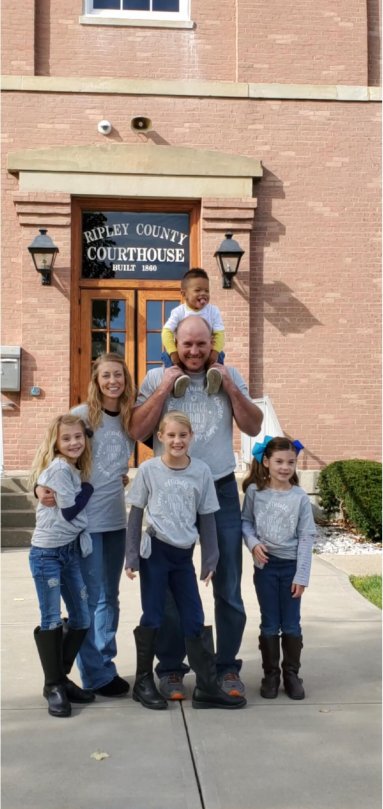 SUBMITTED PHOTO
The lives of a Versailles family will never be the same – and the same can be said for an infant born on February 23, 2020. They would become acquainted just days after the birth and the family of Scott and Kristen Hobbs would welcome a son – Levi.

With National Adoption Month being recognized in November, Kristen said they rang in the month on November 1 in Ripley County Circuit Court when Judge Ryan King made the announcement that Levi would officially become the son of Scott and Kristen and baby brother to 10-year-old Julieann, eight-year-old Heidi and six-year-old Scarlet.

Before Levi was even formed, the path for his life was being laid out as Kristen found out she had cervical cancer in 2015 just before her third daughter was born. "God gave me a miracle with Scarlet's birth," she told The Versailles Republican. Then in August of 2016 while the Hobbs were thankful Kristen could beat the cancer without chemo or radiation – they were fully aware of what having a hysterectomy meant. "We knew we couldn't have any more children, but I just felt we weren't done yet," Kristen explained. A mother's heart began to pray and fully trust God's plan for her family. "I had been praying for a baby since the first part of 2017," Kristen noted. She said her sister had a baby, then some friends. "I just had a longing to hold my baby and was crying out to God." The Bible verse she clung to during this time was Psalms 37:4 Delight in the Lord and He will give you the desires of your heart. Her greatest desire was to have another baby of her own – to keep.

Through Focus on the Family's Wait No More adoption/foster program, the Hobbs learned about adopting through foster care. They were later able to become foster parents through the Department of Child Services foster program after working with local officials to become certified. They welcomed a little girl into their home the day they were certified as licensed foster parents. "We knew from the beginning she wasn't meant to stay with us, but we could care for her until her family was ready," Kristen noted. From December 2019 until August 2020, the Hobbs loved and cared for their foster daughter. In August, they saw her reunited with family and felt God was in the details.

From the very beginning of their fostering journey the Hobbs' had stated that they preferred to foster girls. After all, they had three – and they seemed to know what to do with them. They had all the clothes and items needed for girls. However, that wasn't in the final plan.

On February 23, 2020, her son was born – to another woman. The Hobbs got the call and in just five short days, they were able to bring little Levi home to Versailles. From that time until November 1, 2021, when he was officially pronounced Levi Hobbs, the couple went through the long arduous adoption process. "We were very blessed," Kristen said. She said the local Department of Child Services was wonderful and while they promote reunification if possible, this was a match that was ordained by a higher power. Even Judge King acknowledged at the adoption ceremony this week that he believed there was definitely the involvement of a higher power with the adoption. He also commented that there were the most people attending the ceremony that he had seen. "I laughed and thought – there's plenty more!" Kristen said.

Levi was welcomed into his family of five by 10 cousins, numerous aunts, uncles, grandparents and a host of church family and friends. "The church family at Shelby Christian welcomed him just like he was their own," Kristen said.

"I knew he (Levi) was the answer to our prayers," Kristen noted. She said the whole process has changed her relationship with Jesus Christ. "It has strengthened my faith. He answered my prayer!"

"I am absolutely in love with Levi!" she exclaimed as she told of God's answer to prayer and thanked the ladies at her Bible study who have supported her throughout the process. "I want people to know God hears and answer prayers," she concluded.