Fatal crash lands woman in prison for five years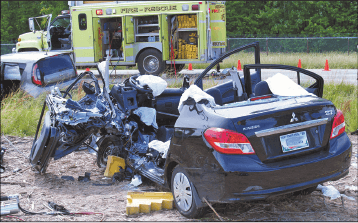 VERSAILLES FIRE & RESCUE PHOTO
The results of a woman driving in the wrong lane, killing a driver in the car she hit head on has landed her in prison for the next five years.

Last week, March 16, Shannon Hubbard, 52 of Pekin, IN, was sentenced to five years in the Department of Corrections for her role in a Ripley County crash that killed Henry Finney, 21, Madison. Prior to being sentenced, Hubbard pled guilty to Reckless Homicide, a Level 5 Felony, where she faced a sentence of one to six years in prison and a license suspension for up to six years.

The charged stemmed from a crash caused by Hubbard's reckless conduct on June 14, 2019 on US HWY 421 just south of CR 1050 S near the proving grounds. While driving at a high-rate of speed in the southbound lane, Hubbard attempted to pass a pick-up truck pulling a trailer. She attempted to make the pass with oncoming traffic approaching in the northbound lane. Without enough time to safely complete the pass, she struck the driver's side of Finney's vehicle as he drove in the northbound lane. Hubbard was driving at a speed of 79 mph just 2.5 seconds prior to impact. Life saving measures were attempted, but Finney died on the way to the hospital as a result of the crash.

An eye witness indicated to law enforcement that she had witnessed Hubbard driving at a high rate of speed, following too closely behind other vehicles, and dangerously passing other vehicles approximately five or six miles from the crash scene on US 421 in the area of Correct. Further, the witness indicated that she believed the driver (Hubbard) was going to kill somebody.

At the sentencing hearing, Henry Finney's mother, Kimberly Finney, provided powerful and emotional testimony when she explained the tremendous loss and impact her son's passing has had and will continue to have on her and her family. In court records it was noted that she remembered his last words to her being, "Mom, I love you" before he left her on his last day alive.

A member of the Indiana State Police Crash Reconstruction Team also testified for the State. Hubbard had a few friends and family testify on her behalf.

Ripley County Chief Deputy Prosecutor Shane Tucker argued that there were numerous factors that warranted a significant aggravated sentence and a maximum license suspension. He argued that the facts and circumstances of the crime were egregious with such a high rate of speed, her following vehicles too closely, her making dangerous passes for approximately five or six miles, her prior recent speeding infractions, and having a small amount of THC in her system at the time of the crash. Additionally, he argued that Finney's young age at the time of his death, Hubbard's lack of remorse at the scene, and the significant impact Finney's loss has caused and will continue to cause his mother and the rest of his family were all aggravating factors that warranted a lengthy sentence at the Department of Corrections.

Hubbard's defense counsel argued that this was her first criminal offense. Additionally, her counsel stated that her remorse for her actions, the impact on her family, and her plea of guilty should be taken into consideration. After hearing the evidence and argument of the parties, the Court agreed with the State's argument and found that Hubbard's willful and wanton disregard for the motoring public, the significant impact of the victim's loss to his family, and that Hubbard had THC in her system at the time of the crash warranted an aggravated sentence of five years to be served in prison with a maximum license suspension of six years.

In reference to Hubbard's sentence, Tucker stated, "While no sentence will ever bring Mr. Finney back to his family, I believe justice was served in this case. The Defendant's reckless, senseless and selfish decisions led to the death of a 21-year-old man who was just starting his life and that should warrant an aggravated sentence."

Tucker also complimented the Indiana Sate Police Crash Reconstruction Team for their thorough and complete investigation.