Fire chief says Versailles department could close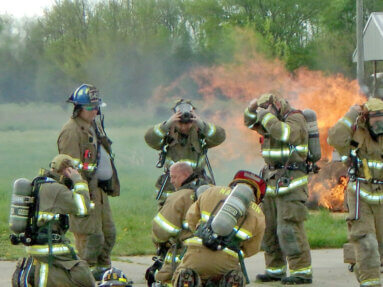 SUBMITTED PHOTO
They train hard. They work hard. They respond fast in a professional manner. What they can't keep doing is begging for funds to operate and never knowing if they will have what it takes to be compliant with State mandates. That's the word from Versailles Fire Chief Ben Sieverding, who has been volunteering for nearly 40 years and wondering if the fire service will ever be a priority for the local government.

Last week at a Versailles Town Board meeting Sieverding reported the department was running with a $7,800 deficit. He said both engines need repairs that will come to about $3,500.

Sieverding told The Versailles Republican that the Town (Versailles) paid the first half of their contract with the fire department in January, but they haven't received their first half of the year payment from Johnson Township. He said Trustee Toni Halcomb said she couldn't pay until July, after the fire services had been provided.

Options were discussed at the meeting with the Chief saying he truly appreciated the ideas, but "this is a problem that will not go away." If the Town of Versailles increases their contribution to the fire department, they told Sieverding it would cause residents additional taxes.

Sieverding reminded those at the meeting that the financial situation they find themselves in was predicted during the 2019 Fire Territory meetings, where a group of residents were against having a Territory that would raise taxes.
 
Living in the town of Versailles himself, Sieverding knows the burden additional taxes place on individuals. He isn't pushing for tax hikes. He is genuinely looking for solutions to fund the busiest fire department in the county. With 27 volunteers they can get out in good time, have enough trained manpower, respond when other area fire departments are not able to, but are struggling with funding.

They train on a consistent basis and are always willing to help other departments. Their training station is used by many groups of firefighters and the instructors are first class.

"It seems a shame that we can't get the funding needed," Chief Sieverding noted. He said if the situation doesn't improve, they might be shutting down on May 1. He said it's just a constant struggle with morale fading because the firefighters don't feel respected. 

Firefighters do far more than respond to structure fires as if that wouldn't be enough. They are called to every type of accident with any type of vehicle, down steep hills, ravines, or into wells. They respond to a plethora of medical situations from the simple to the most complex. They hold trainings at schools, etc. and will be the helping hand the community needs at their lowest time.