Firefighters from multiple depts busy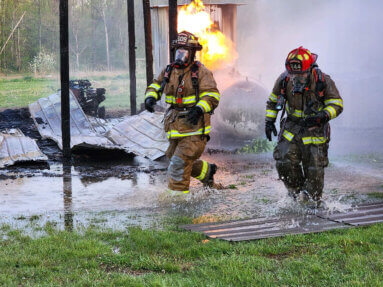 SUBMITTED PHOTO
Last Wednesday, April 19, was a busy day for area firefighters as they battled two separate fires using multiple agencies.

A little after 1:00 p.m. the Osgood Volunteer Fire Department was dispatched to a confirmed structure fire at 852 Columbia Avenue.

According to information from Osgood Fire Chief Kyle Negangard when they arrived there was heavy smoke and visible fire coming from the rear of the mobile home. "Firefighters quickly entered the trailer and contained the fire to a single bedroom and bathroom," he noted.

The mobile home, belonging to Russell Haynes, sustained heavy smoke and heat damage throughout. No one was home at the time of the fire and there were no injuries, according to Negangard. The Napoleon Volunteer Fire Department was on the scene to assist along with Ripley County EMS, who were on scene for about two hours. The cause of the fire is still under investigation.

Wednesday evening the Versailles Fire Department responded to a structure fire on CR 700 South.

When firefighters arrived, they found an outbuilding fully involved in fire that set off the pressure relief valve on a 500-gallon tank of LP gas that was next to the structure. According to Versailles Chief Ben Sieverding, the gas ignited as it was being released from the tank. "The burning gas was within 10 feet of the residence. The pressure relief valve was damaged during the fire and did not reset when the tank was cooled," he noted.

Sieverding said after consulting with two different hazmat team experts, firefighters closed the main line to the residence and let the exhausting gas burn off. During this process firefighters deployed a 2 ½" Blitz nozzle to keep the tank cool and another fire attack line to keep the residence cool.

Firefighters arrived on the scene at 7:28 p.m. Wednesday evening and returned to the station at 4:16 a.m. Thursday morning.

There were no injuries and firefighters kept the residence from sustaining fire damage.

Friendship VFD was dispatched by mutual aid agreement and Osgood VFD and Napoleon VFD were requested for their tankers. Delaware and Milan departments were placed on standby for tankers for the areas where the tankers were deployed from (Osgood and Napoleon). The Aurora Fire Department provided an Engine Company at the Versailles Fire Station during the incident to provide protection for the Versailles community, according to fire records.

These are only two of the runs the firefighters went on last Wednesday. They are always busy with first responder runs, accidents and multiple other requests. If anyone is interested in becoming a volunteer, contact their respective fire department.