Firetruck is a rolling party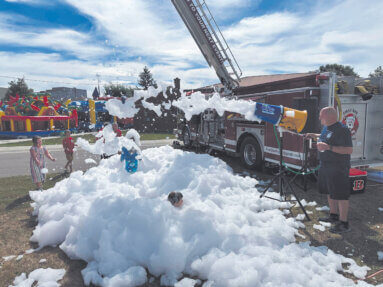 This community is very familiar with Negangard Tent & Party Rental. Recently another family member joined the entertainment business.
Kyle and Jaimmie Negangard purchased a used fire truck and equipment, cleaned and made family ready. They have been hosting firefighter themed parties since September. Their first public (foam) party was at Bricktoberfest in Osgood.
Kyle has been in the fire service for 22 years. Jaimmie has been an EMT for 11 years. Fire protocol and community service are deeply embedded in their everyday occupations.
It began as an idea his brother pitched to Kyle. Kyle's response was "You're crazy! That's not gonna work here!" However, Kyle went home and discussed it with his wife, Jaimmie. Her response took Kyle by surprise when she declared "I wanna do it!"
Along with hosting the parties, available with multiple package options, they use games to teach fire safety and prevention. Much like musical chairs they play music and when it stops the participants must "stop, drop, and roll." A great way to practice a fire safety drill.
Package options include (but are not limited to): cupcakes, or a cake, with firefighter themed décor (with specified number of attendees and advanced notice); foam party; time limit (usually 90 minutes, but is negotiable); and a plan is in the works for a firefighter themed bounce house, probably next year.
The foam used for the foam party is hypoallergenic. No expense is spared and this foam is very gentle to the skin. Kyle shares "this is not somewhere we would be willing to cut costs or try to save money. The less costly foaming agents can cause an allergic reaction and/or skin irritation at least."
A special gift is given to the birthday person. A junior firefighter uniform! Firefighter helmets are provided to all (children) party participants. Gift bags are available with advance notice and number of party guests.
Preparing the gift bags is, commonly, a family endeavor. It took the entire family and many hours to make the gift bags given out at the Versailles Pumpkin Show and Aurora Farmer's Fair parades.
Chozen Designs, Inc. (Versailles) designed the logo. Chozen also made in excess of 1500 cups and 1200 stickers given away at the Versailles Pumpkin Show and the Aurora Farmer's Fair parades. This is in addition to the 60 pounds of candy passed out.
For now, the endeavor is strictly a family affair. Kyle, Jaimmie (wife), and their four children work together to wash and prepare the fire truck, make party bags, and any other details that need done prior to engagements.
Kyle's sister makes the cupcakes or cake.
Even though the business started in September 2023, there is already room for and a plan for expansion. They are already discussing a second truck!
Kyle seemed confident another truck would be available by next year, if not before. And Jaimmie is on board with the proposed expansion.
The basic package (90 minutes; 15-20 children; kids spray water; put on clean, real fireman's gear; games and the truck experience) runs about $300. A steal when you add in the cake and party favors! Even better deal when one considers the birthday person gets a real Junior Firefighter's uniform!
The foam package adds another charge. Foam can only be used in warm weather, or indoors with a cement or other sealed floor and with appropriate drains. Most of the modifications are covered in the basic package charge.
These are not just children's birthday parties! Family functions may need this entertainment for the younger crowd and the young at heart!
Businesses are approaching the Negangard's and "First Due Fire" for company events. However, the adults may not receive a Junior Firefighter's uniform.
At some point in the (near) future, the Negangard's are planning for two to three events daily, especially on weekends. "At some point," Kyle shares "with the expansion of the business, we may have to employ a few others. But for now, it is just our family. We enjoy working together to make these events happen."
Further, Kyle shares that when a party is being held, the entire neighborhood often gathers to watch. Recently, at an event in Batesville, the neighborhood was watching. Even cars passing by, stopped to watch and take pictures. "Everyone was having fun!" said Kyle, "The kids playing and the others watching."
You can reach "First Due Ultimate Firefighter Themed Party" (or First Due Fire) at (812) 621-0949. Or, you may e-mail them at: firstdueparty@gmail.com.
You can also find them on FB at "First Due Ultimate Firefighter Themed Party." Please "like," "follow," and message them for more information.