Flood and Riehle finish strong at state finals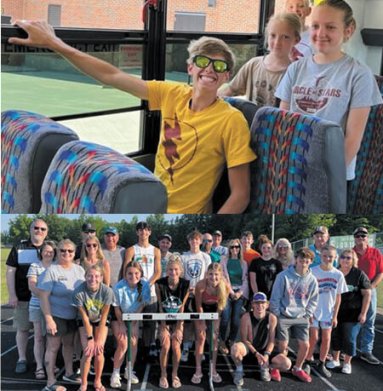 PHOTOS COURTESY OF MILAN SCHOOLS AND BRENDA STRIMPLE
South Ripley's Emily Flood and Milan's Ben Riehle put an exclamation mark on outstanding seasons this past weekend after representing the coverage area at the IHSAA Track and Field State Finals in Bloomington.

Indiana University was once again the host of the state finals which was held at the Robert C. Haugh Track and Field Complex. It was Flood's first appearance at the state meet while Riehle was making his second-straight appearance.

Flood's first state finals bid was no doubt a success on Saturday, running to a 12th place overall finish in the 100 hurdles. The preliminary heat saw the Lady Raider senior turn in a time of 15.04 seconds, placing her fifth among competitors in the first of three heats. That time would not be able to hold up for a bid to the 100 hurdle finals later in the evening but certainly was good enough to keep her ranked in the top half of the overall field which consisted of 27 competitors.

Forest Park's Rachel Mehringer shattered a state finals record en route to the 100 hurdle title. Mehringer won in a time of 13.38 seconds, marking a second-straight state championship for the senior.

Riehle made the first coverage area appearance of the weekend on Friday night in the 400 dash event. All 27 competitors ran in a one-race final that saw the Milan junior place 16th overall in a time of 49.61 seconds. Both standing and time were an improvement from Riehle's first state finals run a year ago in the same event. 2022 saw him place 21st in 50.59 seconds.

Plainfield senior Nayyir Newash-Campbell won the 400 dash title with a state finals record time of 46.98 seconds.

Brownsburg won the team title on the boys side of the state finals with 55 points and Noblesville was the girls champion at 45 points, holding off second place Warren Central who finished with 44 points. Of local interest, Greensburg's girls placed 19th with 15 points and East Central's girls scored 10 points to finish 28th.

With track and field season in the books, our next series of racing competitions comes in the form of road races throughout the area this summer. Many high school runners from both this past fall and spring are set to be in action in preparation for the 2023-2024 school year.