For the love of a child; two moms agree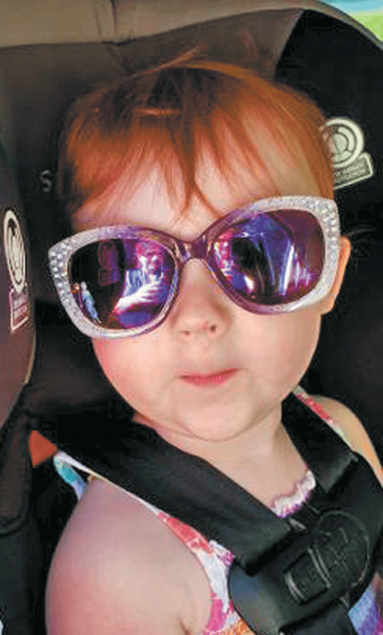 One plus one usually equals two. In this case, the math does not add up and the winner is one baby girl who has unconditional love from two women – her biological mother, Emi Parrott, and her adoptive mother, Janet Carlisle.

Sometimes when two people meet it is for a reason they do not know about. Who would have thought when Janet dropped off or picked up her middle son from his job, she would meet Emi, which would lead to her new love – Sophie.

Two women who love this child so much, one is willing to give her up and another is willing to take her – is the story. Emi knew she couldn't give her baby what she needed to thrive. When she asked Janet, who she had become friends with, if she could take her, there was no hesitation. "I got the call at work, and asked her if 5:05 p.m. that day would be soon enough," Janet told the Osgood Journal. She said she thought her heart would pound out of her chest, knowing she could do this and wanting to get to her as quickly as possible on July 2 of this year. She had a close relationship with the toddler since birth, so the two were not strangers. She had kept Sophie many times to give the new mom a break and became quickly attached to the little red-head. Sophie calls Janet "mom-mom" as they set out on their new journey.

Janet has a history of taking children into her fold. She adopted two of her sons, and raised another son and two biological children of her own. Now Sophie.
With her children all grown, Janet was thoroughly excited and ready to take on the challenge of another precious life to share. Her daughter Pam Bowden, also has her mother's love for children and has two foster children ages 1 ½ and six months, and two of her own, ages three and four, with husband, Nevin. Pam has been helping her mother navigate the legal channels through this adoption and they found out quickly it was way more expensive than it was several years ago. "It was $500 just for an application fee to the licensed adoption agency," Janet noted. Then many more expenses piled on making the reality of adopting cost upwards of $6,000.

The family is tight and they are working hard to make it happen. They held a huge sale last weekend at the home of Janet's great friends, Jennifer and Brian Pate in Batesville. Jennifer is a nurse at Riley Hospital and Brian is a Respiratory Therapist at Margaret Mary Health.

Funds from that helped tremendously due to many people donating to the sale. But, there is more needed.

Janet is proud of all of her children. She is thankful for Pam for helping her with the legalities of the adoption process. Her other daughter, Vicky Carlisle is a firefighter and EMT in Dayton, OH. She is part of the Mobile ICU Team for Miami Valley Hospital.

Oldest son, Shawn Hager and wife, Haley, just gave her another grandchild to love on September 2 – Emma. Her middle son, Tyler, has a rare disorder where his organs were backwards. "He's had extensive medical issues over the years and just had a pacemaker put in," Janet shared. He lives in Versailles and works at both Subway and Gold Star Chili. Her youngest son, Curtis, has epilepsy and for now lives at home and works at New Horizons.

Janet is a Respiratory Therapist at George's Pharmacy and says she loves her chosen career. She's not afraid of a challenge and has a love for children that is unshakeable. She told how Emi is a great mother who said, "I want a great life for her (Sophie), that I can't provide." She told Janet that she trusted her completely. After all, this woman has faced the odds of raising children, some with disabilities, a divorce, and continuing to somehow make it all work out.
"The kudos goes to Sophie's mom, I have so much respect for her." Janet says Emi aspires to be a photographer and she is her greatest champion.
"I have been given the biggest gift in the world," Janet concluded.