Former coach pleads guilty, Special judge rejects plea deal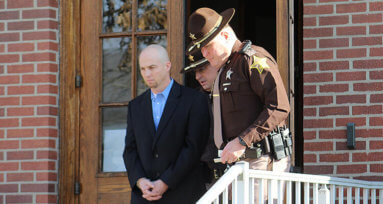 Wanda English Burnett photo
Chad E. Pindell, 36, Napoleon, walked into Ripley County Circuit Court last Friday, January 11 ready to plead guilty to Child Seduction, a level 5 Felony. The hearing was packed with friends and family of Pindell. This agreement was brought about by negotiations with the prosecutor, defense attorney, defendant, and the wishes of the victim to not testify in the case.
This charge was a result of Pindell's actions between December 1, 2017 and February 12, 2018, when he was involved in sex acts with a 17-year-old player on the girl's basketball team at JCD where he was an assistant coach.
Initially, the hearing began with Judge Jon Cleary from Dearborn County, a special judge appointed in the case due to Judge Ryan King's recusal, addressing a number of factors that made him believe the time agreed to earlier (less than a year incarceration) was not enough. Judge Cleary said Pindell's position as assistant coach, the ongoing relationship between Pindell and the victim, and Pindell's use of social media to send pictures to the victim as reasons mandating in his mind a fully executive sentence of at least three years. The charge can carry up to six years.
The judge continued by saying when children go to school and are a part of extracurricular activities they are expected to be safe and that did not happen here. Judge Cleary gave the defense attorney, Jud McMillan, time to meet with Pindell and his family to decide on how to move forward. He could enter an 'open' plea, or go to trial.
McMillan told the Osgood Journal he was surprised by the action, and there wasn't much of a chance to really discuss what to do in that short amount of time. He also said, "we want to respect the victim" and that this turn of events was "very disappointing." Ultimately, Pindell pled guilty 'open' to judge Cleary with this decision placing him squarely at the mercy of the court. Pindell knew he would most assuredly be spending three years in prison, but, he went ahead and pled guilty knowing it could actually be six years incarceration. He was taken to the Ripley County Jail immediately following the court hearing where he will remain until sentencing, which is set for February 7.
Prosecuting Attorney Ric Hertel praised the outcome of the hearing saying that there is often a balance that the State has to consider, the wishes of the victim and the protection of a community. He felt both were accomplished on Friday. Hertel told the Osgood Journal that the victim repeatedly requested she did not want to testify about the sordid details of what took place in the Jac-Cen-Del locker room and what Pindell had sent her on social media. She said she was trying to move forward with her life.
Detective Pete Tressler and Hertel said the victim's request weighed heavy as the case moved forward, and said that forcing her to testify would amount to what they believed would be re-victimizing her. The victim will have the right to address the court at sentencing, but Hertel believes if that happens it would only be a written account.
Noting this is a first incident of a coach and student in Ripley County being prosecuted, Hertel cautioned the public about the dangers of social media and minors. In a press conference after the hearing, both Hertel and Tressler noted they are seeing more of this type of thing due to social media. People are cautioned that social media is not something you can hide from. If you put it out there, it can be found. When asked if this was the only victim of Pindell's by news media, Hertel noted this one victim was the only one he was being tried for at this hearing.
Pindell has resigned from his position on the Ripley County Council. He had also been a teacher at the same school where the incident occurred, but had left that position in 2017 to become the Pastor of Discipleship at the Batesville Christian Church, a position he has also vacated.