Former Ripley County residents safe after Hurricane Ian slams gulf coast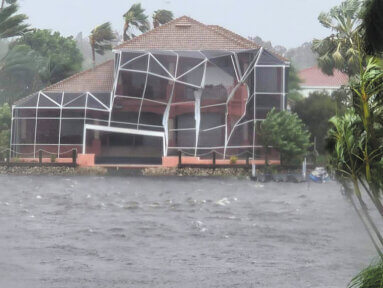 GARA BURNETT KREIDER PHOTOS
Florida has been the place thousands of people flock to every year for vacation. Many take it a step further, and make it their permanent home. Some long for retirement, so they can get a little place close to the ocean.
Ripley County natives are among those who now live in the Sunshine State. Just to name a few: former Sheriff Bill Davison and wife, Susan, Penny Moore Fisher, Mandy Wiley, Charlotte Steuver, former Ripley County Superior Court Judge James Morris and wife, Sally and many more. One by one you could see them mark themselves safe from the deadly category 4 Atlantic hurricane that caused widespread damage when it hit the states of Florida and South Carolina.

Hurricane Ian began as a tropical wave east of the Windward Islands. The National Hurricane Center said it moved into the Caribbean Sea and brought heavy winds and rain to the ABC islands, Trinidad and Tobago, also hitting the northern coasts of Venezuela and Columbia. It became a hurricane as it closed in on the Cayman Islands. This storm caused heavy damage in Cuba where many were left without power. The Center said it is the 5th strongest hurricane on record to hit the United States.

Reports of millions without power saw the cities of Fort Myers Beach and Naples impacted strongly. Sanibel, a popular vacation spot, had major flooding with no access due to a causeway that collapsed.

One official report said that 77 people in Florida have lost their lives in this storm and 4 in North Carolina as of October 1.

Shaun and Gara Kreider (former Ripley County residents) have made their home in Cape Coral and were in Ft. Myers when the storm hit. "I've never experienced anything like it," Gara admitted, saying she took her children to safety, but knew she was needed at the hospital where she and Shaun rode out the hurricane. While the hospital remained with electricity due to generators, the Kreiders did not have any electric or water at their somewhat damaged home as of October 3.

"We are thankful to be alive," the couple noted.

While many people did evacuate, others simply felt they had no place to go. Some said they have heard the warnings for years, but it's never this bad. In any case, numerous companies are heading south to help. It's the spirit of Americana, something that keeps the country rolling when disaster strikes. Indiana has sent teams, along with Ohio and numerous other states. The power grid will be restored with the hundreds of crews just now starting to go into the state.

Many prayers have been going up since the hurricane hit. Now, people are putting their prayers in action and want to help those affected. A sad note to remember is when these disasters hit, there are always people waiting to scam you. So, go with a local agency or reputable organizations such as the Salvation Army or Red Cross if you want to give.

Editor's Note: We will post any information about local people taking relief as soon as we know about it. If you know of a group going south to help out, please let the paper know by emailing wburnett@ripleynews.com.