Fourth quarter comeback lifts Jac-Cen-Del over Waldron 40-36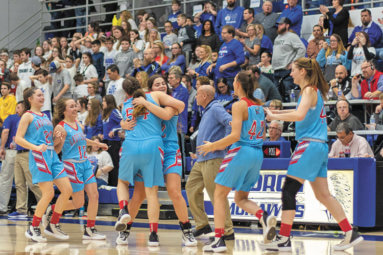 JARED ROGERS PHOTO
The Jac-Cen-Del Lady Eagles are sectional champions for the 12th year in a row after defeating the Waldron Lady Mohawks 40-36 at Waldron on Saturday, February 8.

It was an impressive comeback victory for the ladies in blue as they trailed double-digits in the third quarter before outscoring Waldron 16-4 in the final eight minutes to claim victory.

"We finally realized that we really needed to kick it into gear because they were coming on strong, but we needed to come on stronger," JCD senior Regan Carroll said afterward.

The Lady Eagles did just that. Under the seven minute mark of the fourth quarter, JCD junior Dillan Hughes hit a three-pointer to ignite her team's offense after a choppy first three quarters. In less than four minutes, the Lady Eagles went from trailing by eight points to leading by one with about three minutes remaining. Late free throws rounded out the score at 40-36.

"We just seemed to be out of sync most of the game and in the fourth quarter it finally dawned on them that we've had so many games this year where we trailed in the third or fourth quarter and it's kind of like a switch went off," Coach Scott Smith said of his team's turnaround.

Coach Smith went on to commend his assistant, Clint Bohman, for recommending an adjustment that helped JCD score a few quick baskets in the final quarter. "It really turned the tide of the ballgame," Smith said of the idea.

Waldron showed from the start they had no intentions of losing three consecutive sectional finals to the visiting Lady Eagles. The hosts led 11-10 after the first quarter and took a 22-15 lead to halftime.

Jac-Cen-Del has played some of their best basketball in the second half throughout the season, but on Saturday it took longer than usual to find a rhythm.

Waldron opened the third with four straight points. Following a three-pointer by JCD's Kadee Kuhn, Waldron scored another four in a row. JCD trailed by as many as 11 as they struggled to move the ball and penetrate Waldron's defense.

Up 32-24 to begin the final set, Waldron attempted to slow the game down. Thanks to Bohman and Smith's lineup adjustment, the Lady Eagles got a defensive stop. Then, their offense took off and Waldron spent the rest of the quarter on their heels.

Waldron's Nichole Garner finally broke her team's draught with a three-pointer to bring the game to 38-36 with 11 seconds left. It was too little, too late, however, as the Lady Eagles sealed the win with final free throws.

Anna Hubbard led JCD with 12 points and six blocked shots. Paige Ledford added nine points and seven rebounds. Annabelle Williams scored seven and pulled in 10 rebounds, and Kadee Kuhn and Dillan Hughes each scored six. The Lady Eagles went 11-16 from the free throw line.

Jac-Cen-Del exits the sectional with a 21-4 record while Waldron ends their season at 12-12. JCD travels to Southwestern (Shelbyville) High School this Saturday, Feb. 15 to take on the 21-5 Greenwood Christian Academy Lady Cougars in the 12:00 noon game of IHSAA Class A Regional 15.

Greenwood Christian is ranked as the fifth strongest team in Class A according to Sagarin's latest analysis, while JCD sits in ninth. The final Indiana Coaches of Girls Sports Association (ICGSA) poll ranks JCD seventh and GCA eighth as of Feb. 3, while the MaxPreps database places JCD in eighth and GCA ninth as of Feb. 8.

The Lady Cougars defeated all three of their sectional opponents easily: They beat Providence Cristo Rey 72-10, Indianapolis Tindley 82-52, and Indianapolis Lutheran 82-44.

Coach Smith noted that he hopes his team enters the regional the same way Waldron came into the sectional final, with a feeling of nothing to lose. "We'll go up there and we won't be the team that's supposed to win, so we'll play looser."

Seeing his players cut down the nets, Coach Smith made sure to appreciate the moment. "We're going to celebrate tonight," he said before wading into the crowd of Eagles fans on the floor.

Coach Smith and the Lady Eagles have claimed 16 of 21 sectional championships in the 21st century. Climbing the ladder and taking home a piece of nylon surely feels sweet every time.