Fourth weekend events enjoyed by many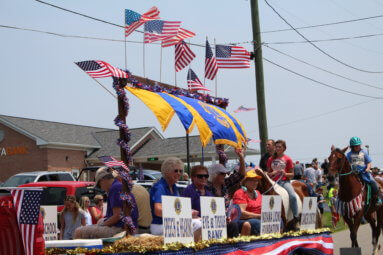 WANDA ENGLISH BURNETT PHOTO
Ripley County celebrated the Fourth of July in style this year.

From Thursday night when the first music hit the air waves at Batesville with the Indianapolis Symphony Orchestra bringing their style to the last blast on Sunday, Independence Day was celebrated.

The Ripley County Chamber of Commerce's United We Stand night at the fairgrounds park in Osgood, was a big hit. A large crowd gathered and enjoyed music by Centerline Band before the fireworks were lighting up the night sky. They are compliments of the Gilmore and Golda Reynolds Foundation.

Osgood continued to be center and front over the weekend with their inaugural "A Celebration of the Declaration of Independence" event held Sunday at noon. Marsha Bultman and Jeff French, dressed in authentic period costume, read the Declaration of Independence. The document, which includes "We hold these truths to be self-evident; that all men are created equal; that they are endowed by their Creator with certain inalienable rights; that among these are life, liberty and the pursuit of happiness; that to secure these rights, governments are instituted among men, deriving their just powers from the consent of the governed," was heard in clear, strong voices as almost 100 people gathered by the library steps in Osgood for the event.

Bill Gloyd was instrumental in getting the event underway and had been working on it for about three years. However, when the actual date came, Bill had some medical problems that had him in the hospital. Even though he attended from his vehicle, Bill was able to make the first event with hopes it will continue and grow each year. His wife, Sandra, welcomed the crowd, and the couple along with Rita Wilkening, made up the committee from the Osgood Beautification Committee to get the event off the ground.

Kyle Merhley, Jac-Cen-Del Band student, was the drummer, who led the readers to the podium. Sandra read history events written by Jeff French. She began, "The Declaration of Independence was the first formal statement by a nation's people asserting their right to choose their own government…"

Many enjoyed fireworks set off by the Versailles Fire Department members on Saturday night at the Versailles State Park. The sparkle over the lake area gave the display a different perspective than others as they were lighting up the night sky.

The Town of Milan was a sea of red, white and blue as the annual parade made its way through the streets. There were many floats met by enthusiastic viewers who lined the parade route on Sunday afternoon.