Franklin makes it official, will head to IU Southeast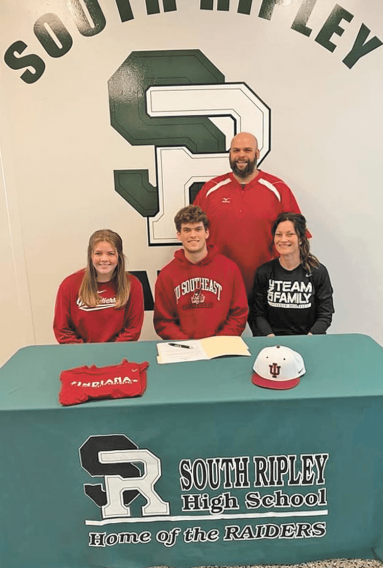 SUBMITTED PHOTO
Bryce Franklin has had both basketball and baseball blood running through his veins since a very young age and his skill set in both sports has made him a success on the court and on the diamond. But the latter is what the South Ripley senior will take to the next level.

Franklin, a standout student-athlete for the Raiders, sat alongside family and friends at the high school on Monday and signed his letter of intent to play baseball at Indiana University Southeast in New Albany. The NAIA school is a member of the River States Conference.

For Franklin, who had visits and offers from several schools among the NAIA and NCAA ranks, the decision came down to what the school could offer not just in terms of baseball, but offer to him in order to grow as an individual.

"I chose IU Southeast because it was the best fit for me as a person and as well as a player," Franklin said of the decision. "The coaches at the school care about you as much a person as they do a player and I love that."

Most recently, Franklin had garnered a lot of looks based on his play on the summer circuit but his play wearing the Raider green and white has had him on the radar since his freshman season when he led the team in hitting with a .435 batting average and drove in 24 runs. He went on to continue his hot streak at the plate his sophomore campaign as he developed into one of the top starting pitchers in the area as well, boasting an impressive win-loss record that at one point in the season stood at 4-0 with a 0.55 earned run average.

Franklin was an All-Ohio River Valley Conference selection and all-sectional pick in baseball both of those years, while also having to his credit an All-ORVC selection in basketball this past year before COVID-19 shut down the baseball season in March. Franklin's strong work ethic has been the key component to such a list of accomplishments and that will aid him as he heads to an IU Southeast program that has put in the work to be one of the best programs at the NAIA level.
The Grenadiers were 18-1 overall and 6-0 in the RSC before the COVID shutdown in the spring of 2020 and in recent years have been a mainstay in the NAIA National Tournament. IU Southeast, coached by South Dearborn graduate Ben Reel, is ranked No. 11 in the 2021 NAIA Baseball Preseason Coaches Poll and are ranked No. 1 in the RSC Preseason Poll.

"I see myself fitting in with the team very well," Franklin said of his future team. "They have a great group of players that get after it everyday."

Franklin is the son of Steve and Ashley Franklin and has a younger sister Lexi, who is an eighth grader at South Ripley. He has yet to decide his major but plans to pursue an educational path that will allow him to work with youth in the future.