Friends of VSP donate expression swing, umbrellas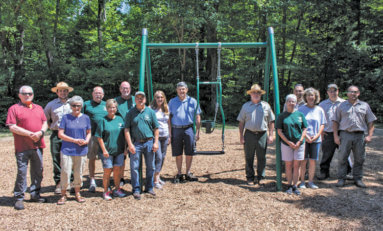 Jared Rogers Photo
In addition to hosting fun events like hikes and kayak tours at the Versailles State Park, the "Friends" of the park use their official non-profit status to raise money to put towards park improvement and for visitor enjoyment.

After raising funds over the past two years, the group purchased and donated a handicap accessible "expression swing" which was just installed in mid-July. The swing, which features two seats close together, is located on the Campground A loop just past the camp gatehouse. The swing allows a small child to sit in one seat, while another person can sit facing the child on the second seat. It will be a great addition to the park's playground infrastructure, no matter a child's physical ability level.

Soon after getting the expression swing installed, the group purchased a patio table and chairs, with an umbrella, to be placed near the nature center. Current chairperson of the group, Bruce Fiscus, noted that the table will be a fine place for people to enjoy their ice cream purchased at the camp store located inside the building.

Finally, the group also purchased new umbrellas for the picnic tables located in the pool deck concession area. Not only will visitors to the camp store enjoy their ice cream in the shade, now swimmers will, too! Even though school has started, the pool is open on weekends through Labor Day.

Members of the community who enjoy spending time at the Versailles State Park are welcome to join the Friends group. Yearly membership rates include: $15 for individuals, $25 for families, and $100 for sponsors. Follow the group on Facebook at Friends of Versailles State Park for the latest events and happenings.