Fun on the Brick Street in Osgood this weekend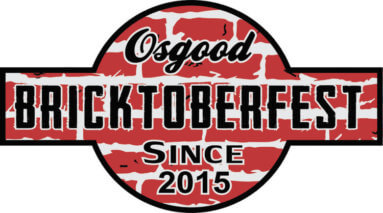 SUBMITTED PHOTO
Don't miss Osgood's Bricktoberfest this Saturday, September 21. This is the 5th annual event the town has offered, which always draws a large crowd and offers a variety of things to enjoy.

This year they will be serving smoked BBQ, along with having a beer and wine garden from 11 a.m. until 10 p.m.

A 5K by Be You Fitness event will take place at 10:00 a.m. A car show will take place from 11 a.m. to 3 p.m. and local vendors will fille the historic brick street and beyond.

There will be all kinds of activities for kids including carnival games and face painting along with a caricature artist from 11 a.m. to 6 p.m.

Live music will be provided by the Jac-Cen-Del Band, Jake Gaither, Aaron Hedrick, Skallywags, 650North and Just Another Cover Band.

Come, bring your lawn chair, kick back and enjoy being with neighbors and friends while you enjoy the festivities offered. The event is free courtesy of the Town of Osgood and the Osgood Grub Company.

You can also go online for more information at Bricktoberfest@osgoodindiana.org or on Facebook Bricktoberfest.