Fundraiser in place for B'ville families displaced from fire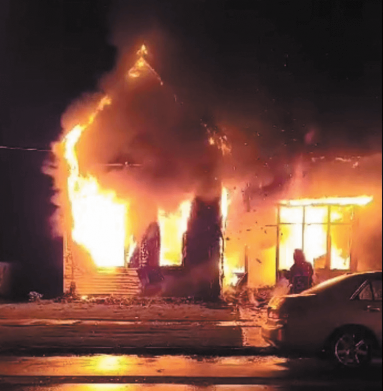 SUBMITTED PHOTO
Name of deceased released
According to information from Steven Harmeyer, City of Batesville's Community Development Director, a fundraiser has been created for those displaced by a fatal fire that completely destroyed the home they were living in at 106 N. Park Avenue in Batesville on Monday, August 31.
According to Ripley County Coroner Jason Bailey, April Ortiz, 40, lost her life in that tragic fire, which is still under investigation by the Indiana Fire Marshal's Office. Neal's Funeral Home, Osgood, will be handling the arrangements for funeral services, which were pending at press time.
Nine residents of the home were displaced. A fund has been put in place for community members and organizations who would like to give financial support to these families. The fund is overseen by Harmeyer in his capacity with the City of Batesville, along with the Hispanic Community Advisory committee. Funds will be dispersed equally among the families.
Monetary assistantance can be given by visiting any FCN Bank and making a donation to "Displaced Victims Benefit." This program will run through September 18. Donations such as clothing are not being accepted by the City of Batesville.
For more information you can contact Steven Harmeyer at sharmeyer@batesvilleindiana.us or 812-933-6113.