Gentile ties record, SR/JCD tie 4-4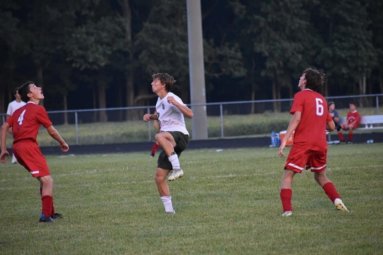 PHOTO BY AMANDA BETZ
On a night that saw senior Zach Gentile move into a historical tie inside the South Ripley record books, the Class A No. 16 Raiders and Class A No. 12 Jac-Cen-Del found themselves knotted up inside an Ohio River Valley Conference and county rivalry boys soccer showdown with the two teams finishing Monday night knotted up 4-4 in Osgood.

The tie allowed for Jac-Cen-Del to maintain possession of the traveling "Coach Mo" trophy, a crown named in honor of the late Matt Obendorf, a former Raider varsity boys soccer coach. The Eagles had regained possession late last season after South Ripley knocked off the Eagles in the first match between the two in 2020.

Early on it looked as if Jac-Cen-Del's defense would be enough to extinguish what has been a red-hot Raider offense all season and the Eagle offense aided early as Ryan Wilson's goal made for a 1-0 lead by halftime and Caleb White added an early second half goal to push the lead out to 2-0. But that's when South Ripley regained its scoring form and launched an all-out assault for a two goal lead of its own.

Gentile gave the green and white their first goal with 24:41 remaining in the second half on an assist by Ben Miller and a Ryan Miller assist to Logan Betz tied the match with 10:27 remaining. The Ben Miller to Gentile connection inside 10 minutes to go gave Ripley its first lead of the night and Ben Miller's third assist found the foot of Betz who pushed the advantage to 4-2 in favor of the Raiders.

But even with time dwindling, Jac-Cen-Del put up an assault of its own. While defense had subsided, offense took centerstage. The Eagles got within a goal on a penalty shot late and Kameron Darnold added to an area instant classic when his corner kick with just 2:18 remaining in the match tied things at 4-4. Neither team was able to score the rest of the way.
While Ben Miller provided his three assists, Betz scored two goals and Ryan Miller collected an assist, eyes went to Gentile's two goals that made for his 30th and 31st goals of the season. The 31 goal mark ties the South Ripley record for most goals in a season set by 2004 graduate Chris Buchanan during the 2003 fall season. Gentile went for the record-breaking goal on Wednesday night and his quest for sole possession of the record will be reported in next Tuesday's Osgood Journal.

A full release of Jac-Cen-Del statistics for the match was not provided by time of print.
The Eagles (5-2-3, 4-1-1 ORVC) visited Milan on Wednesday in ORVC rivalry action while South Ripley (8-0-2, 4-0-2 ORVC) hosted Southwestern (Hanover) on Wednesday in ORVC play and visits conference foe Switzerland County on Saturday.