Get in line to have fun! Osgood American Legion offers line dancing lessons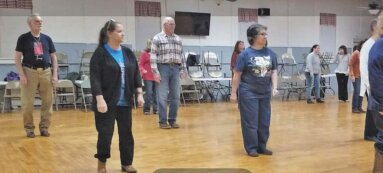 SUBMITTED PHOTOS
Learning the Electric Slide, Cupid Shuffle, Ritas Waltz, and Copperhead Road, so far those attending line dancing lessons at the Osgood American Legion are having a great time.

"I'm having fun learning," noted Helen Lohrum as she and her husband, Johnny, are learning new moves. They encourage others to come and enjoy the excellent exercise that dancing provides, along with meeting new people and joining in with old friends.

Ed Schmidt and his wife, Sharon, decided they would step things up a bit this winter with offering line dancing lessons for free at the Legion. The couple has enjoyed this for many years. "We just got to talking one night after we attended a celebration of life for a friend and thought we had so much fun years ago and could do this again," Ed told the Osgood Journal. He said it's fun and exercise at the same time. After the COVID-19 days of being cooped up, the Schmidts thought this would offer a way for people to get out of their homes and communicate.

"We're not experts by any means," said Ed, who noted they have danced like this for 30 years going back to the days of Broom Sage in the '90's.

Anyone can join the group on Thursday nights at the Osgood American Legion at 7 p.m. where they will learn new dances and practice old ones. Then, in February, the Legion will have a band and people can showcase what they have learned.

"The Legion has a lot going," noted Ed, who said one of his favorite things is the Flag Etiquette program where fourth grade classes learn the importance of the American Flag.
They also have a Dart League on Tuesday evenings.

Thanks to the generosity of the Milan American Legion, Osgood now has made several renovations in their kitchen.
Ed is the Adjunct with Dustin Peetz being the Commander of Post #267.

"You don't have to be a member of the Legion to participate in many of our events," noted Ed, as he encouraged others to get involved with this organization. "However, you'd be surprised at how many people in this area actually qualify to be a member," he noted.

Check out what is going on at the Osgood American Legion, 120 S. Elm Street. For more information call 812-689-4644 or online AmericanLegion267@yahoo.com