Get your free ticket now!The Carl Erskine Story to be shown at Damm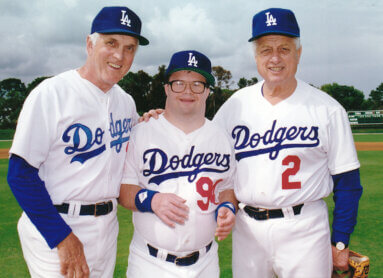 Submitted Photo
"The Best We've Got: The Carl Erskine Story" screening will be shown May 10 at the Damm Theatre in Osgood and you have a free ticket thanks to the Osgood and Versailles Lions clubs.

Doors will open at 6:15 p.m. with the show following at 7:00 p.m. Tickets were purchased by the two area Lions clubs so everyone can see the film, created, and produced by award-winning Indiana filmmaker Ted Green.

The story of Carl Erskine, the man who legendary broadcaster Vin Scully said is "living a perfect game," will be told on the big screen.
According to a press release from Special Olympics Indiana, Erskine has been a pivotal figure in Special Olympics Indiana's history, and the organization has partnered with Ted Green Films to spread Erskine's messages of friendship, inclusion, servant leadership and respect.

"The Best We've Got" looks deep into Erskine's life, starting with his upbringing in Anderson and highlights his legendary Major League Baseball career. A pitcher for the 1955 World Series champion Brooklyn Dodgers – the team author Roger Kahn famously called "the Boys of Summer" – Erskine was a teammate and friend of Jackie Robinson, the first Black player in a sport that for more than 50 years was segregated.

The film features Erskine's role as a father to a son, Jimmy, with Down syndrome. In the 1960s and 70s, Special Olympics was just starting up. Founder Eunice Kennedy Shriver urged Erskine to use his star power to raise awareness for the movement that now is known and respected worldwide as an organization promoting opportunities for those with intellectual disabilities.
The documentary focuses on important themes from Erskine's life, like friendship, inclusion and more. Since its August debut in Erskine's hometown of Anderson, the film has earned many recognitions, including the Heartland International Film Festival's Audience Choice Award.

The release noted that during the making of the film, Green dedicated months to compiling research as well as gathering historical footage and images, including many from the Erskine's home albums. Also, many well-known and respected sports and community figures were involved in the project. "The Best We've Got" is narrated by Charley Steiner, longtime radio voice of the Los Angeles Dodgers. It also features powerful interviews from former Indiana Governor Mitch Daniels, legendary sportscaster Bob Costas and the late Vin Scully, who spent 67 seasons calling games for the Dodgers.

Don't miss out on this opportunity to see this film. Secure your ticket today by calling Owen Menchhofer at 812-756-0160 or Keri Johnson at 812-621-0805. Or you can take a chance on getting a ticket the night of the show, while supplies last!

About Ted Green Films:
In 2010, Ted Green switched to filmmaking after 20 years as a newspaper journalist. Since then, he has produced and directed eight documentaries that have won 21 regional Emmys (including Best Documentary for his past four), and a national Gabriel Award in the category of Human Dignity. His most recent film, "The Best We've Got: The Carl Erskine Story," chronicles the inspirational life of the last of the Brooklyn Dodgers' fabled "Boys of Summer" and one of the great human-rights champions of our time. Previous titles include "Eva: A-7063," "Attucks: The School that Opened a City," Bobby 'Slick' Leonard: Heart of a Hoosier," "Undefeated: The Roger Brown Story," and Naptown to Super City." Ted holds a BA from Princeton University and a master's from the Medill School of Journalism at Northwestern University.