Grant allows K9 to have better training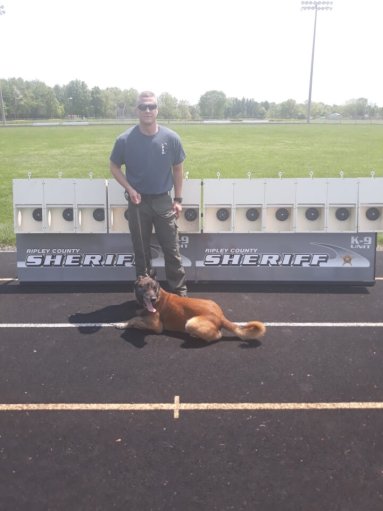 SUBMITTED PHOTO
Dogs are known as man's best friend. However, if you're doing something with illegal drugs, Czar, is probably not your best friend. He is however, a friend to his partner, K9 Deputy Adam Hunger with the Ripley County Sheriff's Office.

In a letter Deputy Hunger wrote for a recent grant he said, "Czar and I are committed to serving the citizens and youth of Ripley County, make a difference in today's drug epidemic."

Deputy Hunger works with Czar every day, performing a number of duties. They have been together since July 15, 2017 and have been deployed over 150 times where Czar has assisted with multiple arrests. Another duty of Czar's is to search the local schools along with the school authorities and police.

There have been numerous drugs taken off the streets thanks to the work of Czar. He has found methamphetamine, heroin, marijuana, cocaine, needles, pipes and other drug paraphernalia. Deputy Hunger explained that Czar is strictly a dog that searches for drugs and paraphernalia. He's not a search dog if there would be a missing person.

Recently Deputy Hunger requested and was granted dog detection training boxes, from the Rising Sun Regional Foundation. The boxes cost $4,735.00. "I am sincerely thankful for the grant that expedites the learning process for Czar," Deputy Hunger told The Versailles Republican. He noted that the boxes were designed by Randy Hare to keep a K9 well trained, they should use the box training system at least twice a week. Deputy Hunger noted that he was only able to train Czar on this system about once every six months because they had to use the boxes from another training facility. Having the box detection for his exclusive use (and of course he would share with others as needed) makes a big difference in keeping Czar sharp.

Deputy Hunger noted that he is thankful to Sheriff Jeff Cumberworth for seeing the value in having a K9 on the force and allowing him to be the one to partner with him. He is thankful for the Rising Sun Regional Foundation who has helped make sure that his dog is up to standards with the specialized box training system.

The 14-year veteran of law enforcement says handling a K9 is his passion and he has seen first hand the difference it has made in law enforcement in the county.