Gunter's heroics keep SR title hopes alive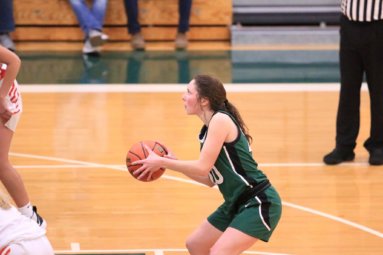 Photo by Lori Samples
South Ripley couldn't hit the frigid waters of Laughery Creek if it fell out of a boat for most of Tuesday night but a fourth quarter surge allowed the Lady Raiders to keep their head above water, giving way to a 33-28 win over North Decatur in a Class 2A Sectional 45 opening round girls basketball game in Versailles.

The win was the 15th of the season for South Ripley who survived a major upset bid against a five-win North Decatur squad. The two teams met in last year's sectional championship game that saw the Lady Chargers pick up the title.

Neither team managed to score in double figures in each of the first three quarters but with North clinging to an 18-17 lead heading into the final frame, the lid on the South Ripley basket finally lifted, at least enough for one player to get the job done.

As defense led to numerous opportunities on the offensive end for the Lady Raiders, Gracie Gunter shook free of a major shooting slump and drilled a trifecta of 3-pointers that catapulted the Lady Raiders out in front. She would go on to can two free throws late that kept the lead intact and preserved the win.

North Decatur (5-12) had let at all stops prior to the fourth quarter. The Lady Chargers were plagued by a plethora of turnovers, struggling to garner any consistency on offense against the Lady Raiders' length on the defensive end.

Gunter finished with 15 points which included the 11 points she scored in the fourth quarter. Rachel Meyer scored six points, all coming in the second half.

North Decatur was led by Jenna Geis with eight points while Morgan Stanley and Brittany Krieger each scored six points.

South Ripley (15-5) hosts South Decatur in the second semifinal game on Friday night. It will be the first meeting between the two teams this season.