Haessig recovery strengthened by community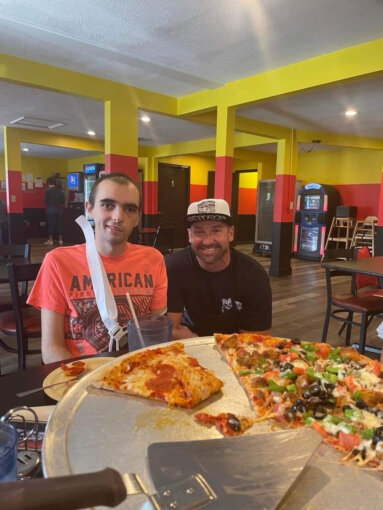 SUBMITTED PHOTO
Noah Haessig wasn't supposed to survive 48 hours. It was an accident that dealt so many injuries to his body that doctors believed any chance of survival was minimal at best.

Three months later, the Milan High School graduate is at home, recovering and has been back out into the community. Miracles do occur, the power of prayer can never be counted out and Haessig has shown all of us what can be done through strength, determination and the support of friends, family and generous neighbors from all over.

"The neurologist told us he wouldn't make it 48 hours … traumatic brain injury, would be lucky to make it through the night," Noah's mom Rebecca said. "We had so much of the community praying for him. We had so many who said he was on prayer lists. He needed a miracle, we started asking people to help with that and we got one."
That doesn't mean the road to recovery has been an easy one. Haessig, a 20-year-old, was northbound on State Road 101 near Spades Road on March 1 when his 2021 Kawasaki was hit by a Toyota truck, throwing Haessig off his motorcycle and onto the road. He was aircared to Cincinnati with life-threatening injuries soon after and what ensued was a number of surgeries, treatment and rehabs that Noah persevered through in his road to survival. Among those included surgery on the arm, leg, neck and spine while also being attached to a ventilator, a chest tube and a tracheostomy tube. Nerve damage and brain injury also added to a list that for many of us is impossible to fathom.

A slew of other issues arose while still in the hospital. Injuries from the accident spread throughout and sparked episodes that made life a nightmare in the early going.

"Doctors said at first he would be paralyzed," Haessig noted of Noah's injuries. "The C2 through C7 of his spine were fractured. They had thought it had got into his spinal cord but it just missed so he was not paralyzed. He had several strokes in the hospital. They thought he would not be able to use the right side of his body."

But through it all, Noah continued to fight and defied odds day-by-day as his miracle continued to be fulfilled. Here in the month of June, both continue to be a success although the road to recovery is still long. Haessig has been spotted at various community events and has been able to be out with family members. They may not be lengthy trips but it's signs in all the right directions.

The trips around town and visiting with friends and family is part of the next step to recovery from a social aspect according to his mom.

"He wants to get out and do things but gets tired quickly," Haessig said. "When we go out he wants to walk with assistance. We are trying to help with some struggles. He has nerve damage still on his left side and is not able to use his left arm yet or his right arm. But right now our biggest goal is for him to be more independent and get that arm movement going."

Arm movement will be helped by a surgery that will remove bone off his right arm in order to relax the nerves while left arm movement will rely on nerve regrowth within the next year. The family is also looking ahead to find a solution to Noah's hearing loss suffered in his left ear which was accompanied by vision loss in his left eye.

"We are looking to see if he is a candidate for an ear implant," Haessig said of future steps. "He has complete hearing loss in his left ear and complete vision loss in his left eye. If we are unable to qualify for the ear implant then we will look into other hearing options. Between that and his nerves growing back at a slow rate it is a very slow process. There are a few things, especially with Noah's nerve repair that doctors will not do anything about for at least another year."

In the meantime, Noah's journey continues to be recognized by the community and fundraising efforts have spread all over the county. Both the American Legion and VFW organizations have hosted drives and events to raise money as has the Milan Aquatics swim group which Noah has served as an assistant coach for during the summers.

Rebecca Haessig's employer, South Ripley Schools, has also raised money for Noah's recovery. Most recently, Cecil's Slice of Pie here in Versailles announced that 50 percent of its sales on the first Monday of each month the rest of the year will be donated to the Haessig family to help with ongoing medical expenses.

"Noah has brought me perspective and given me hope," Cecil's owner Chris Cole said in a company Facebook post. "This Noah is fighting and we want to help him fight. We decided we cannot do just one charity night for him and his family. Noah has shown us heart and now we will show him ours."

"We can't respond to everyone but the support of the community has been unbelievable and overwhelming," Rebecca Haessig said. "We can't thank everybody enough. People come to us all the time saying they are praying, thinking of us and enjoy seeing updates. The donations are wonderful. It's just amazing what a small community does to help out. We love living in this small community. You don't know how much people think about you and care for you."