Harmeyer shoots at NASP Open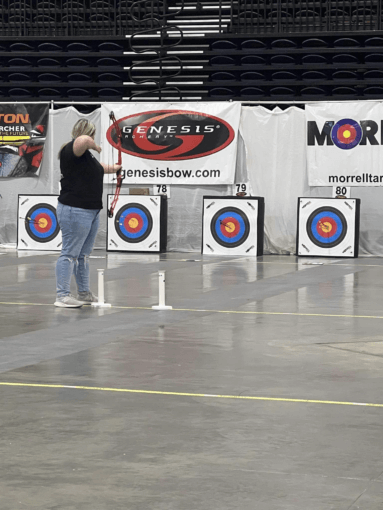 SUBMITTED PHOTO
Cassidy Harmeyer spent her high school career staking claim as a key cog inside Jac-Cen-Del's archery program and the newly-graduated Eagle took her talents to Myrtle Beach this past weekend, competing in the NASP Open Championship.

Harmeyer has racked up numerous accolades at the local, state and national levels during her archery career which included an invitation to the national championship on Friday. The event was put on by the National Archery in the Schools Program which showcases thousands of youth archers from around the country.

Friday saw Harmeyer battle through some adversity but still managing to establish herself in the top-half of every statistical category. She finished up her day with a score of 274 which included 18 "Tens" during her tournament round, placing her 121st out of 356 total high school girl competitors at the championship. Harmeyer's total placed her 34th out of 79 high school senior girls and she finished ranked 204th out of 1193 girls overall.

Harmeyer was the only coverage area representative at the championship in North Carolina. Other competitors of local interest included those from Madison, Southwestern (Hanover), Jennings County and South Dearborn.