Harrington named Miss Ripley County 2021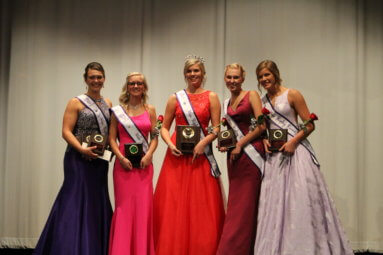 WANDA ENGLISH BURNETT PHOTO
Shalee Harrington, 18, Batesville, was first on the list to be introduced to the crowd at the Miss Ripley County Pageant and that held true when it came time to announce the winner of the pageant. Heidi Speer, Miss Ripley County for 2019 and 2020 (due to COVID-19 there was no pageant in 2020), crowned Shalee amidst a room filled with smiles and congratulations.
Shalee's performance throughout the Pageant was stunning as she introduced her mother, Dawn Harrington, as her Hometown Hero saying, "She went to all the games, and worked hard." She described her mom as her stalwart supporter and someone who also is there for many other students as she has dedicated her life to coaching. She appeared in a smart black suit with her hair swept up for professional attire and then appeared in a red flowing gown with a sparkly top and silver shoes for the evening gown portion of the program. "I'm just so proud of her," Dawn told the Osgood Journal after the Pageant.

When given an impromptu question, which was "What is a true friend?" Shalee immediately replied that a true friend was one who was there for you even in bad times. "They will tell you the truth," she told the crowd who had gathered at the Damm Theatre in Osgood Sunday night for the Pageant.

The Batesville High School and Ivy Tech graduate is pursuing her education through Caris College Sonography to become a medical sonographer.

Shaylee is excited to hold the 2021 Miss Ripley County title and is looking forward to her duties during fair week coming up July 18-24. This is the 62nd year for the Pageant.

Shalee's court will be filled with Miss Congeniality Shaylee Volz, Fourth runner up Katherine Bedel, Third runner up Shaylee Volz, Second runner up Abby Knowlton, and First Runner up McKenzie Laker. The People's Choice Award Winner was Emily Veerkamp. This is determined by money collected that will go to food banks in the area. This year the amount was $1,048.00, which was a high number.

Professional Wear Award went to Emily Campbell, who appeared in a smart black suit accentuated with a sparkling dragonfly pin. Formal wear went to Shaylee Volz, who wore a beautiful flowing purple gown with silver sparkles on the bodice and down the back center panel. The Kindness Scholarship Award also went to Shaylee Volz. This award was given in memory and honor of Shawn Negangard and Kristie Sams.

There were 10 contestants this year and all were beautiful and articulate with questions. Judges Sarah Mahoy, Nathan Floyd and Brett Hamilton, had their work cut out for them.
Each contestant appeared first with their Hometown Hero and said why they had chosen that person. These ranged from parents, grandparents, to teachers, coaches, and friends of the girls. Their impact on young lives was obvious as they described how much each one meant to them. Hometown Heroes included: Dawn Harrington, David Veerkamp, Mary Ann Hartman, Cheri Laker, Lawrence Bedel, Leslie Thackery, Mary McCoy, Jim Cole, Cheryl Welch and Rachel Lawhorn.