Here's the scoop on puppy poop! Ice Cream, that is!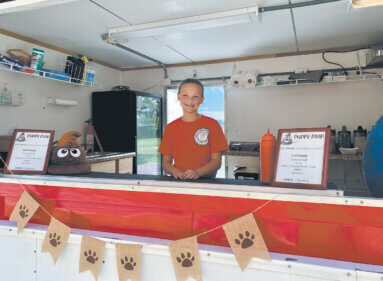 JULIE POLLOCK ELLIOTT PHOTO
After completing a recent lesson on animal overpopulation, animal rights, and a presentation from the Ripley County Humane Society, led by teachers Lisa Gilpin and Kristin Stone, the 6th grade students at SRES were able to spend a portion of their Tuesday afternoon, August 29, outside enjoying beautiful weather and some ice cream sundaes. These weren't your typical sundaes, though, these special sundaes were served proudly by a fellow classmate- an 11-year-old entrepreneur.
Abby Weatherwax, owner and founder of Puppy Poop Ice Cream is also a 6th grade student at SRES. She first started her ice cream truck one year ago at the age of 10 with the mission to help dogs and other pets find their forever homes with loving families and allowing dogs, especially puppies, to receive proper vet care and vaccinations.
A portion of the proceeds Abby receives from her ice cream truck go to organizations such as the Ripley County Humane Society to fulfill her valued mission. "I found out the humane society needed help, and everyone loves ice cream!", the bubbly 11-year-old quickly responded when asked where she came up with her idea for her business.
Abby and Puppy Poop Ice Cream can be found at many events, some as far as Indianapolis. Not only are sundaes available but you can also pick up something special for your pets such as frozen peanut butter and blueberry treats.
Of course, an 11-year-old can't do this all on her own. At any given event, you can find Abby's grandparents, Joe and Ila Cottone, or her parents, Jessie and Todd Weatherwax, in the background preparing the sundaes while Abby enthusiastically tends to her customers with a smile.
You can find Puppy Poop Ice Cream at the Osgood Bricktoberfest on September 16 where Abby will be serving her sundaes throughout the day. She also plans to be at Barktoberfest , a fall festival for dogs, scheduled for October 21 at the Decatur County Fairgrounds. You can find more information and future events by following their Puppy Poop Ice Cream Facebook page.