High School Sports wrap up Phase One, Phase Two of IHSAA plan begins Monday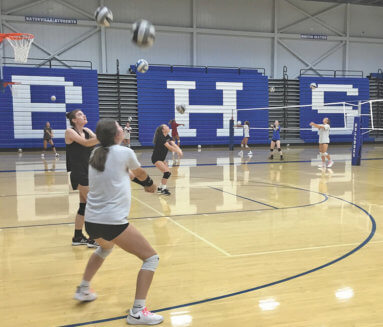 Submitted Photo
Rob Lafary
STAFF WRITER
The Indiana High School Athletic Association is set to enforce phase two of its return-to-play plan beginning on Monday but with COVID-19 numbers on the rise once again and a handful of student-athletes in the state being diagnosed with the illness this week, questions are looming and many question if fall sports will even begin on time in August.
For now though, the IHSAA is playing it cool and commissioner Paul Neidig has told multiple news sources that he is confident that fall sports will experience no delays or even worse, a cancellation. While the safety of student-athletes is still top priority and individual schools who have experienced COVID cases are making changes to their practice schedules, it is hard to argue against the fact that so far the majority of the state has enjoyed a positive return experience. 
Locally, area teams have put all guidelines and restrictions in place but have been out in full force, which includes sports that are currently not in season but are doing their best to make up for lost time. Fall sports, who begin competition in less than a month, immediately hit the ground running when phase one began back on July 6.  The fall season officially kicks off on Monday, August 3 with girls golf and the rest of the fall slate follows less than two weeks after. 
"I love the enthusiasm," Batesville varsity volleyball head coach Kateri Paul said of the return. "I can tell the players were doing their June workouts because they have been keeping up with the drills. We are excited to be back together and in the gym. I have girls asking for more reps and court time but we are limited to the time we can be together."
Athletes have made the most of that limited time at school -15 hours per week- and with a no-contact rule in place for phase one, many have spent the practice time working with teammates from a distance and performing a variety of individual drills. And while players work, coaches are pulling double duty, not only teaching the kids during their allotted time, but also coming to school early and leaving late so that all equipment used is cleaned up and sanitized for the next day. 
"It has been manageable," Milan head football coach Ryan Langferman said of practicing with restrictions. There is just more work on the coaching staff to prepare and sanitize." 
Unless new restrictions are put in place, phase two of the IHSAA plan should allow for a little more leverage although sanitation and safety protocol will still be strict. Phase two goes through August 15 with the biggest change being that contact will be allowed at all practices and workouts. Weekly practice time will be extended as well and locker rooms will be opened up to 50 percent capacity along with weight room workouts being more flexible. No formal competition is allowed with the lone exception being the start of  girls golf.