Holton boy sets example for all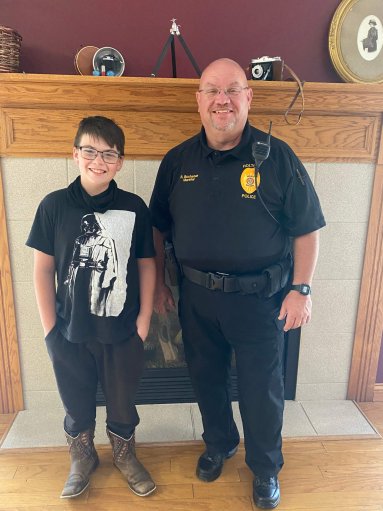 WANDA ENGLISH BURNETT PHOTO
A Mother's Day gift may have been forever lost if it wasn't for the integrity of one 12-year-old boy.
The person's life impacted by that young man was a 93-year-old lady.
The story unfolded as Zander Wright, 12 of Holton, was walking home from the park where he says he truly enjoys playing. He happened to glance down and saw a paper – but at a closer glance he knew it was a check.
With no hesitation, he took the check home to his parents, Jeff and Angel Wright, because he said, "it was the right thing to do."  The Wrights contacted Holton Town Marshal Ron Buchanan, and he quickly knew who the person was and made sure the check was returned.
Doing the right thing turned out to be a joy for the lady it belonged to – it was a $50 check that said "Happy Mother's Day" in the memo. It meant a lot.
Zander's brother, Malichi, 15, noted that they have been raised that way. He said his parents were surprised by Zander finding the check, but weren't surprised by his actions. "It's how we've been raised," both boys agreed.
About making sure the check was where it was supposed to be, Zander said, "I feel good." He noted that his Principal Amy Linkel at South Ripley Elementary always says, "Do the right thing and treat people right."
Mrs. Linkel told the Osgood Journal, "I'm so proud of Zander, he has a heart of gold. He has turned his words into actions, he's walking the walk (we teach at SRES every day). She reiterated, "I'm beyond proud of him, I really am."
While the brothers said they don't have big summer plans, they are looking forward to going on vacation.