Holton man beats COVID, gives God the glory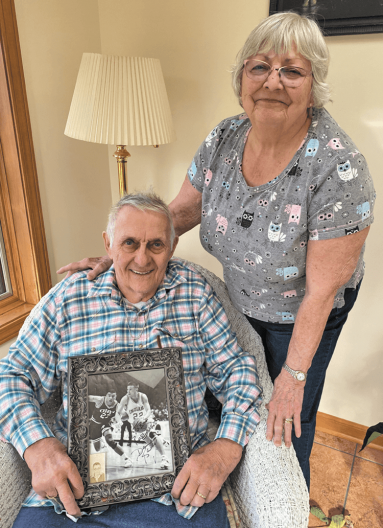 WANDA ENGLISH BURNETT PHOTO
Bob and Peggy Furst of Holton have much to be thankful for. They have weathered many storms in their 44 years of marriage, but nothing like the most recent one when Bob was diagnosed with COVID-19.

"It just about ate a hole in me," Peggy said of not being able to see her husband from the end of October last year to the first week of December, due to him being hospitalized. During that time phone conversations were limited as well because he was on the ventilator. "It was a hard time," they both agreed as they smiled after coming out on the other side.

Bob has been through a lot in his life, having Rheumatic Fever when just a young person. He said he had a really bad car wreck at the age of 17, and beat cancer twice.

Over the years he has been a hard worker and retired many times. From working at Arvin Industries to driving a mail truck, Bob and his wife have worked at whatever they could to make a living and sometimes just so they weren't bored.

Bob held the position of Holton Council President for 15 plus years when he served as a council member. He saw many ideas come to fruition, including a sewer system that would dramatically change the landscape in the small town, a community center and more. There were many projects with Bob saying, "I enjoyed every one of them."

"We are so blessed," Peggy noted, saying the couple has had many people step up and help them since Bob became so sick in the late fall last year.

One of the greatest joys to Bob, was a framed, autographed photo of Damon Bailey, one of his favorite basketball players. It reads: "To Bob. Best Wishes." This was obtained through his granddaughter, Bailey and her fiancé, Roydale. They were able to secure the hand written note from the basketball star and present it to Bailey's grandpa at Christmas.

"I feel fortunate," said Bob, who is 84-years-young, as he talked about his family, friends, and church that has been so supportive throughout this latest medical trial.

The couple gives God the glory for bringing them through and say they enjoy life. Every day.