Home destroyed by blaze, 2 others badly damaged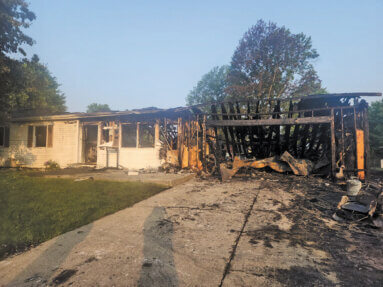 AMY DAVIDSON PHOTO
At 5:50 p.m. on Tuesday, May 23, Batesville Fire Department was called to the Scott and Tammy Miller residence on BoB White Blvd. in Quail Meadows of Batesville.

Todd Schutte, Chief of the Batesville Fire Department, told The Versailles Republican that the fire started at the back of the house with a four-wheeler. The fire spread and went under the awning on the back porch and then moved into the house and garage. The home is a total loss, but everyone made it out safely with no major injuries.

As the fire spread, two neighboring homes were also affected. The home of Dwayne and Barb Gunselman was badly damaged, but the extent of loss was not determined as of press time. Stephanie Gunselman, daughter, told The Versailles Republican on Wednesday morning, "We are just so grateful everyone got out safe. Just want to thank all the fire departments that assisted with working to get the fire out as quick as they could." Dwayne and Barb Gunselman were at church at the time of the fire.

The residence to the left of the Miller residence, owned by Paul Belter, was also affected by the blaze. Chief Schutte said that home sustained siding damage and cracked windows due to the heat of the fire from the Miller home.

Chief Schutte thanked all the neighboring fire departments from Oldenburg and Morris for helping out. "They did a great job assisting," he concluded.

Such a tragedy for all the families involved. A Go Fund Me has been set up by Holly Lozier for the Miller Family. They are in need of clothing. A Cash App and Venmo has also been set up by their son, Scott Miller, Jr.