Honors given at Annual Chamber Dinner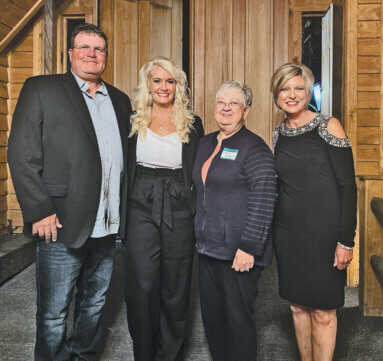 WANDA ENGLISH BURNETT PHOTOS
Four Ripley County residents received a high honor from the Ripley County Chamber of Commerce at their 2022 Annual Dinner & Awards Ceremony held last Thursday, October 27 at The Hog Rock Event Center in Osgood.

"Being named Citizen of the Year is an award of distinction and great honor," Amy Streator, Executive Director of the Ripley County Community Foundation noted as she introduced Cheryll Obendorf for the award. She said Obendorf, who served as the Director of Genesis: Pathways to Success for 13 years is a leader, changemaker and philanthropist.

"During that time, this woman was often found inside one of our high schools, middle schools, Ivy Tech, or career center working with administrators and teachers to ensure that Ripley County students had state-of-the-art equipment, that teachers had affordable access to quality career development programming, and that students had multiple hands-on learning opportunities in the field of STEM," Streator noted.

She went on to say that Obendorf was a catalyst for the expansion and enhancement of the Diesel Technology program and SCC; creation of the Ripley County Engineering Academy; Regional Rube Goldberg Machine Contest, developing of Manufacturing Camp and guided schools into the world of 1:1 learning and teaching.
Obendorf created and developed an initiative called Believing and Achieving Dreams: Entrepreneurs of Ripley County. She did many other things with ideas that were innovative and ahead of the curve. "She is a great member of any team or committee because she is always willing to listen to others and provide new and innovative ideas," Streator concluded.

As Obendorf received the award, she said she was "humbled and honored and truly shocked she had been chosen."

Brenda Schwering was honored as Educator of the Year. The Batesville born educator shared her journey of landing in the Milan School Corporation and never looking back. She earned a Bachelor of Science degree in elementary education from the University of Indianapolis with a minor in special education and an endorsement in kindergarten. She earned a master's degree in counseling from IUPUI.

Schwering was an elementary teacher and counselor at Milan for 33 years just retiring in May. She shared that her belief of "once an educator always an educator" prompted her to return to Milan in August to serve as the Student Support Development Coordinator for CARES Center, which is an after school/summer tutoring and mentoring program in Milan.

She turned the honors to highlight the teacher who influenced her life and led her into the professional of education, Donna Harrelson, who was in the audience. Harrelson said "
Brenda was always kind and caring, you know she really cared how she made others feel," the teacher shared.

Schwering remains active as a board member for United Way of Franklin and Ripley County, member of the Milan CARES committee, an active member at St. Mark's Lutheran Church in Batesville and co-leader of a book study. She and husband, Doug, have two grown sons – Landon and Logan.

The evening continued with the Kellys – Chris and Tara, owners of Kellys Hidden Acres Golf Course in Milan, being honored.

The couple had a humble approach as they thanked the Chamber for the award saying they were honored. Chris said he feels it's important to give back and thanked his family and employees, "I'm blessed beyond means". He said his wife is the "glue" that holds the place together. He expressd deep respect for her ability to help with the business and be a great wife and mother.

Keep watching for what is going on at the golf course. Chris noted that soon he will be coming to area businesses looking for donations to help with a great Christmas giveaway for kids.

As Tara was praised by her husband, she noted that she is his "eyes and ears, but it's his vision," as she thanked the community, parents, families, children and employees. The two have worked side by side since they married in 2010 running Kelly Oil Company in Milan, along with K&K Mini Marts in Milan, Sunman and Lawrenceburg, and lastly adding another gas station in Versailles.

During this time the Kellys built and opened a food pantry for the Milan Community and built a youth football field for the kids, all the while donating to and funding many other programs. It was noted they never wanted any accolades for anything they did, just caring for their community.

In 2018 the couple began the process of selling the oil business and gas stations. They then purchased the golf course and haven't looked back. For the past three years they have made improvements and additions that make the 18-hole course one to enjoy.

The evening ended with a catered meal and entertainment by Greg Lee, a professional full-time musician entertainer with Show Stoppers Talent & Events.