Hoops Hall welcomes 2023 class on Saturday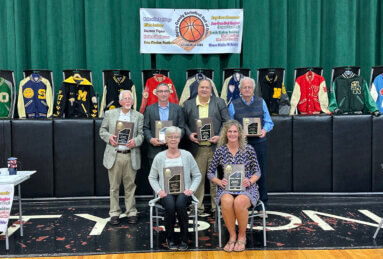 Rob Lafary
Stories of basketball past echoed throughout the friendly confines formerly known as Tyson Auditorium last Saturday night as the Ripley County Basketball Hall of Fame officially welcomed its 2023 induction class.
The event for a second year in a row was held at the Tyson Activity Center and funded by several businesses throughout Ripley County. An early evening reception was held followed by dinner provided by Rolling Pin Catering in Versailles. The night concluded with the induction ceremony, celebrating six new members to the hall of fame.

Four of the six inductees brought postseason success to the county, including the late Forrest Shook, a 1934 graduate of Batesville who helped lead the Bulldogs to their first Ripley County Tournament title and the program's first-ever regional championship during the 34 season. Shook, who eventually went on to star in basketball and track and field at Ball State University, was represented by his family at the ceremony who thanked the hall of fame's Board of Directors for recognizing his accomplishments during such an early time period of Indiana high school basketball.

Another Batesville legend in 1997 graduate Michael Menser also received his much-deserved hall of fame plaque and spoke about the importance of his coaches, teammates and family during a stellar career that ended with finishing runner-up as Indiana Mr. Basketball before leading Indiana State University to back-to-back appearances in the NCAA Tournament. Menser, who scored nearly 1700 points in his high school career, remains a statistical leader in several categories at both Batesville and Indiana State. The Bulldogs won four sectionals, two county titles and a regional championship in his four years as a varsity player.

The Jac-Cen-Del duo of Bill Vankirk and Carmen (Rohls) Pride also reiterated the importance of others in their playing careers and beyond. Vankirk was a captain on the 1977 boys basketball sectional championship team while Pride led the Lady Eagles to back-to-back sectional championships in 1995 and 1996, the latter resulting in a regional runner-up finish. Vankirk's loyalty to his alma mater remains and he continues to be a fixture in the Osgood and Napoleon area as a businessman and avid sports fan. Pride's basketball career eventually landed her at the University of Evansville where she led the Purple Aces to the NCAA and NIT Tournaments before returning to the area and becoming instrumental in the development of several athletic training programs at various schools.

1959 Sunman graduate Frank Kramer and 1965 Versailles graduate Danny Jackson rounded out the induction class and explained what it meant to watch and play the game of basketball during what many consider the glory days of hoops here in Ripley County. Kramer spent his early mornings working at the family donut shop before spending his nights starring as a premier post player for the Tigers. Kramer's talents inside the classroom would eventually take him through law school and into the real world where he has been well-known around the state as an attorney.

Jackson, who many know as an involved community member and former business owner here in Versailles, is featured in at least 11 different statistical categories when it comes to the record books of the Versailles Lions. He would litter the scoring, free throw and assists records at the school and recorded game-highs of 38 and 36 points during a three-year career under head coach William "Gus" Moorhead. He would eventually play basketball overseas as part of the United States Navy and earned accolades on the hardwood while serving his country in Japan. Upon returning to Versailles, he would be one of the individuals responsible for bringing a youth soccer program to the Versailles and Osgood communities.

Nominations for the 2024 induction class are now being accepted by the Ripley County Basketball Hall of Fame Board of Directors. Information on the nomination process can be found at ripleycountybasketballhof.org.