Hop into your local parks this spring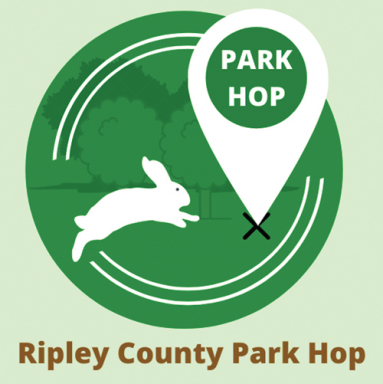 Local libraries are gearing up to kick off the second annual Ripley County Park Hop on Monday, March 1.
"Anyone can come, for people from all over," said Terri Trowbridge, executive director of the Ripley County Tourism Bureau. "The hope is bring people into our county to check out our local parks – even some of our local people aren't aware of some the parks."

Sarah Bush, one of the Tyson Library staff members working to bring the Park Hop back this year, said she was really surprised to learn just how many parks Ripley County has for its residents and visitors. For those of you counting, there are 17.

This year's two-month long event will include six story walks in parks throughout the county and four Pop Up at the Parks events hosted by area librarians.

Trowbridge explained that the story walks are new to the Ripley County event this year. The walks will be up in six parks – Holton Community Park, Sunman Community Park, Pangburn Park in Versailles, Brum Woods in Batesville and Osgood Trails – throughout March and April, pending final approval from each park's management.
Families can walk along the paths or trails and read a story as they go. The titles selected by this year's organizers are: "Star in the Jar" by Sam Hay, "Scribble Stones" by Diane Alber, "The Bad Seed" by Jory John and Maxwell Anderson, "Leaf Man" by Lois Ehlert, "We're Going On a Nature Hunt" by Steve Metzger, and "Hello, Little One: A Monarch Butterfly Story" by Zeena Pliska.

This year's Pop-Ups at the Park will take place in April and will all focus on interacting with nature. Families can visit Pangburn Park (Versailles) on April 10 from 1 to 2 p.m., Osgood Trails on April 17 from 11 a.m. to noon, Darren Baker Memorial Park (Milan) also on April 17 from 1 to 2 p.m. and Freedom Park (Batesville) from 10 a.m. to noon on April 24 to work with each town's local librarians on a project.

On days when there are no pop-up events, families are encouraged to take their passports and try to complete the scavenger hunt at each park. Passports are available at each of the libraries and the Ripley County Tourism Bureau. They can also be printed at www.ripleycountyreads.com/events.

"We started this park hop last year," said Bush. "Since this is the second year, we are hoping more people might know about it or be used to the idea and take advantage of this opportunity to get outside for some socially-distanced activity."

For participants under the age of 18 there are prizes for completing all the clues at 1, 5, or 10 parks. And, those who complete all the clues at more than 10 parks will be entered into a drawing for one of this year's grand prizes.

To claim prizes, participants and their families are welcome to join the finale celebration at the Shimmerhorn Shelter at the Versailles State Park on May 1 from 11 a.m. to 1 p.m.

"It's just a way to let people know about these parks and get people out and about and into some fresh air and explore our beautiful parks," said Trowbridge of the Park Hop.

Since this is a socially distanced event, participants are encouraged to take pictures of their families hopping through Ripley County's parks and share them with the tag #RipleyCoParkHop2021 so others working to fill out their own passports can see the fun others had during their outings.