Hot Rods bound for state tourney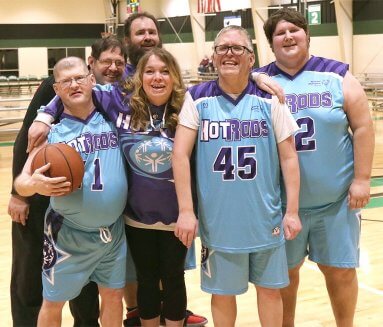 PHOTO COURTESY OF SPECIAL OLYMPICS
The Special Olympics Indiana group of Ripley, Dearborn and Ohio counties will be on the hardwood to tip off the month of April as part of the Indiana Special Olympics State Basketball Tournament.

Formatted in a similar fashion than that of the state tourney run by the Indiana High School Athletic Association, state tournament participants qualified back on March 18 as part of the sectional round hosted by Triton Central High School. A 3-on-3 portion of basketball also made for an area tournament with finalists getting to compete at the state level as well.

The Hot Rods will be in action in both the men's and women's state tournaments. On the women's side, the ROD group will play in a noon divisional contest against Putnam County while the men play in the state semifinal round against Monroe County at 11 a.m. The divisional format will also be followed by the 3-on-3 bracket in which the ROD Jaguars play Madison County at 1 p.m.

State tournament play begins on April 2 and it will be quite the treat for all participants as the basketball action will be played at the Indiana Pacers Athletic Center in Westfield. Games can be viewed online at www.livebarn.com/en/ for a small fee.