Indian boys win Panther Invite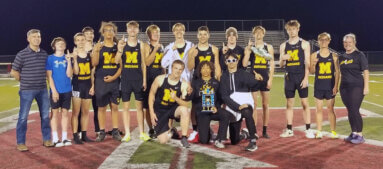 PHOTO COURTESY OF MILAN ATHLETICS
Milan's boys track and field team continued its early season success on Friday night, winning the Panther Invitational at Knightstown.

Both the boys and girls teams from Milan competed in the eight-team field which included host Knightstown, Indiana Math and Science, North Decatur, South Decatur, Shenandoah, Tri and Waldron. Official team standings were unable to be provided by time of print.

The Indians dominated on the boys side, putting together nine wins on the night which included victories in both the 1600 and 3200 relays. From an individual standpoint, two Milan runners were triple-event winners. Ben Riehle won all three dashes, winning the 100 dash in 11.36 seconds, the 200 dash in 22.93 seconds and the 400 dash in 51.64 seconds. Ayden Potts won the 800 run in a time of 2:13.25 and followed it up with a time of 4:51.80 to win the 1600 run and 10:46.34 to claim the top spot in the 3200 run.
Mason Green was the final winner, coming across the finish line first in the 300 hurdles in a time of 43.47 seconds.

Austin Green finished runner-up in the high jump at five feet and 10 inches. Gabe Riehle ran second in the 800 at 2:14.24 and followed it up with a third place finish in the 1600 at 4:55. Lucas Cooney ran the 3200 and was third in a time of 10:58.83.

Milan's girls team had top five finishes in five different events, led by Josie Havlin who won the 400 dash in 1:04.91 and was third in the 800 run at 2:57.13. Elly Potts ran second in both the 1600 and 3200 runs in times of 6:37.76 and 14:20.29 respectively. Anna Herzog was fifth in the 200 dash in 29.85 seconds.
The Indians compete in the South Dearborn Invitational on Thursday night.