Indiana Area 1 4-H Horse and Pony Show held at Ripley County Fairgrounds on June 8 and 9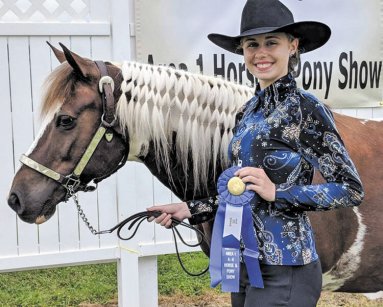 Submitted photo
Back again in 2019, the popular Area 1 4-H Horse and Pony Show took place at the Ripley County Fairgrounds over the weekend of June 8 and 9. Youth 4-H participants from 16 Indiana counties, as far away as Putnam, Morgan, Clark, and Hamilton counties joined locals for the show.
Ripley County was well represented, with 32 participants out of the 141 entries total.
Area 1 4-H Horse and Pony Show Committe President Sarah Adams wrote to The Versailles Republican, "The committee is proud to put on this show annually for our 4-H youth, and to bring exhibitors to Ripley County."
This year saw the event continue to grow, as a second barn was needed for use on the grounds. This "cattle barn" was half-filled, in addition to a full, 60 stall horse barn at the fairgrounds.
Traditionally, the show was open only to 4-H members living within Area 1, and it was a qualifying show for the Indiana State Fair. When these qualifiers were no longer used for the state fair, the Area 1 committee decided to continue the show and open it up to any Indiana Horse and Pony member.
Under this new structure, the show is still a great time for 4-H members to practice for their respective county fair shows. It is also a great outlet to connect with like-minded horse and pony enthusiasts, and spend the weekend with animals, friends, and family at the Ripley County Fairgrounds.