Indians advance to sectional semis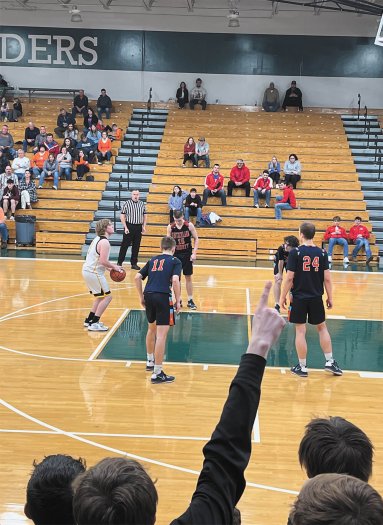 SUBMITTED PHOTO
Milan boys basketball is one win away from playing for a championship after defeating Switzerland County 59-56 in the opening round of the Class 2A Sectional 45 Tournament at South Ripley.

It was the first sectional win for the Indians since winning back-to-back games en route to a sectional runner-up finish in 2019. Milan is now on a three-game win streak and used Tuesday night to complete a season sweep of Switzerland County for the fifth consecutive season.

Switzerland County (9-15) obviously had chances throughout the night to keep its year alive but Milan for the most part controlled and held on to the advantage. After an 11-11 tie at the end of the first quarter, the Indians took over, scoring 19 points in the second frame to go up 30-25 by halftime and that margin stretched out to 43-36 by the end of the third period, spearheaded by the efforts of Kohen Rinear who drilled two 3-pointers and Brayden Rohrig who knocked down a triple to aid in the scoring. With a little less than six minutes to go in the game, the black and gold were in charge of a modest eight-point lead.

But the Pacers bounced back and made a push, using two trifectas by Kadyn Riley to sneak into the contest and threaten Milan the rest of the way. Milan's lead went all the way down to 55-54 with 2:11 remaining but trickled back up to 57-54 at the 35 second mark. The Indians never faltered as the seconds ticked until the horn sounded and the three-point lead stayed intact. Switzerland County had two opportunities from beyond-the-arc to tie the game but were unable to connect on the pair.

It was quite the team effort for Milan and four players scored in double figures. Rinear had nine points from the three-point line and finished with a team-high 16 points while Brayden Rohrig was strong with nine first half points and finished at 13 points. Micah Norman scored eight points in the first two quarters en route to 12 points and Ben Riehle sat at 11 points.
Holden Acra and Gabe Riehle rounded out Indian scoring with five points and two points respectively.

Jacob Williams paced Switzerland County with 20 points but was held to eight points in the second half. Riley finished at 17 points with 15 points coming off of five made 3-pointers. Four of those came during the comeback attempt by the Pacers.
Milan (9-15) plays in the second semifinal on Friday night against Hauser (11-12) with the winner advancing to the championship game on Saturday night against either North Decatur or South Ripley.

The Indians fell to the Jets 46-41 just two weekends ago on February 17. The Jets are 7-3 against Milan in the last 10 meetings between the two schools but the pair has not met in the postseason since Hauser's opening round 57-44 win en route to a sectional championship in 2011.
CLASS 2A
SECTIONAL 45 OPENING ROUND
at South Ripley
MILAN 59,
SWITZERLAND COUNTY 56
M – 11 19 13 16 – 59
SC – 11 14 11 20 – 56
MILAN (9-15) – Kohen Rinear 16, Brayden Rohrig 13, Micah Norman 12, Ben Riehle 11, Holden Acra 5, Gabe Riehle 2, Alex Wenger 0.
SWITZERLAND CO. (9-15)- Jacob Williams 20, Kadyn Riley 17, Cooper Todd 7, Aiden Griffith 6, Canaan Johnson 6, Bradley Romans 0, Trace Johnson 0, Dylan Sullivan 0.
3-Point Goals – M 7 (Rinear 3, Norman 2, Rohrig 1, Acra 1), SC 9 (Riley 5, Williams 2, Todd 1, Griffith 1). Total Fouls – M 9, SC 16. Free Throws – M 8-14, SC 5-6. Fouled Out – None.