Indians blank Lions 18-0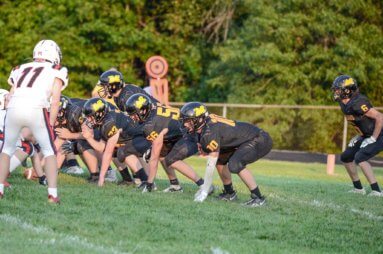 Photo by Teri Bockstahler-Barker
Milan put a near brand new look on the gridiron Friday night compared to what fans had been accustomed to the past couple of seasons but the Indians on night one kept the winning tradition alive as the black and gold shut out Rushville 18-0 in the 2021 high school football opener at home.

The Indians have now won three-straight season openers, all against Rushville. The game marked the first shutout against the Lions since Milan won 33-0 back in 2016.

Although the game stayed within striking distance most of the way, Milan's defense made the margin seem much larger as Rushville managed just nine first downs in the contest and was never able to string together a consistent rhythm on offense. In the process, an inexperienced Indian offense was able to do just enough.

Milan struck in the first quarter less than four minutes in when Riley Johnson sprinted 40 yards for the first score of the season and the 6-0 score went to 12-0 in the second quarter when quarterback Brayden Rohrig connected with Alex Wenger on a 37-yard touchdown pass. The game was put out of reach in the fourth quarter with just 3:44 remaining on a two-yard scamper by Rohrig.

Despite two turnovers on the night, Milan was able to overcome a couple of miscues by putting together 242 rushing yards, 19 first downs and controlling the clock for over 27 minutes on Friday. Four different players had at least one carry in the game and 298 total yards were gained on offense.

Johnson had 18 carries for 139 yards and a touchdown while Logan Reed had 15 carries and 73 yards. Rohrig had 10 carries, 28 yards and a touchdown while also going 3-of-7 passing in his starting debut. He threw for 56 yards and a score against just a lone interception. Wenger's 37-yard catch made him the top target for the Indians.

Rushville (0-1) was held to just 153 yards of total offense with one turnover. Adam Sizemore had 16 carries for 63 yards to lead the Lions.

Mason Green was credited with an interception for the Indians while Cole Moore recorded a sack in the game.

Milan (1-0) now sets its sights on this Friday night's rivalry showdown on the road when they visit Batesville for the annual Ripley County Bell Game. The Indians fell to the Bulldogs 42-34 in last year's thrilling contest.

FRIDAY'S FOOTBALL GAME at Milan
MILAN 18, RUSHVILLE 0
RUSHVILLE 0 0 0 0 – 0
MILAN 6 6 0 6 – 18
RUSH. MILAN
1st Downs- 9 19
Rushes-Yards – 29-109 44-242
Comp-Att-Int – 4-14-1 3-7-1
Pass Yards – 44 56
Penalties-Yards – 15-140 8-77
Fumbles-Lost – 0-0 3-1
INDIVIDUAL
STATISTICS
RUSHING – Rushville, Adam Sizemore (16-63); Dylan Thompson (4-23); Austin Vance (7-19); Hanley Fuller (1-2); Jacob Hampton (1-2). Milan, Riley Johnson (18-139, TD); Logan Reed (15-73); Brayden Rohrig (10-28, TD); Alec Barker (1-2).
PASSING – Rushville, Austin Vance (4-13-1, 44 yards). Milan, Brayden Rohrig (3-7-1, 56 yards, TD).
RECEIVING – Rushville, Dylan Thompson (2-36); Chase Woolf (1-6). Milan, Alex Wenger (1-37, TD); Riley Johnson (1-14); Cole Moore (1-6).
MISSED FIELD GOALS – Milan, 1.