Indians, Bulldogs send wrestlers to regional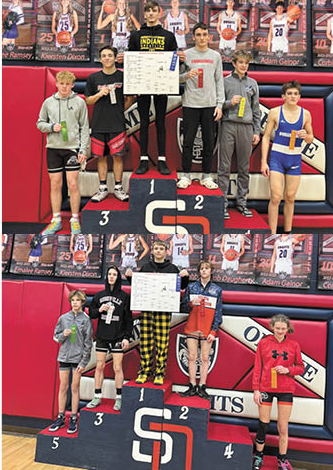 PHOTOS COURTESY OF MILAN ATHLETICS
Milan and Batesville will both be represented in the regional round of the state tournament as both squads saw individuals qualify at the IHSAA Wrestling Sectional on Saturday at South Dearborn.

East Central won the sectional with 253 points while Franklin County was second at 207 points. Milan finished in the top five, grabbing a third place finish with 180 points. Rushville was fourth with 127 points and Connersville placed fifth with 116.5 points. The only other coverage area participant was Batesville who scored 59 points and finished 10th.

Nine Milan wrestlers finished in the top four of their respective weight class to earn bids to the regional tournament this weekend. Of the nine, two were crowned individual sectional champions. Matthew Baylor (41-0) won the 106-pound class and Kaleb Wilburn (39-2) took first in the 138-pound class.

Kayla Roell (26-8) continued to show her capabilities as a grappler and gave the Indians a fourth place finisher in the 113-pound class and Lucas Richards (30-8) was runner-up in the 120-pound class. Connor Myers (26-14) was second at 152 pounds, Cameron Gilb (29-9) was fourth at 160 pounds and Mason Green (23-10) finished second at 182 pounds.
Carson Betz (26-17) and Joaquim Allen (17-15) were each in fourth place at 195 pounds and 220 pounds respectively.

Max Amberger will represent Batesville in regional action. Amberger (31-6) finished second in the 285-pound class, falling to Lawrenceburg's Colton Roth in the sectional championship match.

The IHSAA Wrestling Regional starts at 8 a.m. on Saturday morning and will be hosted by Richmond High School. Participants will include qualifiers from the South Dearborn and Shenandoah sectionals.