Indians defeat Cougars 62-56 in sectional opener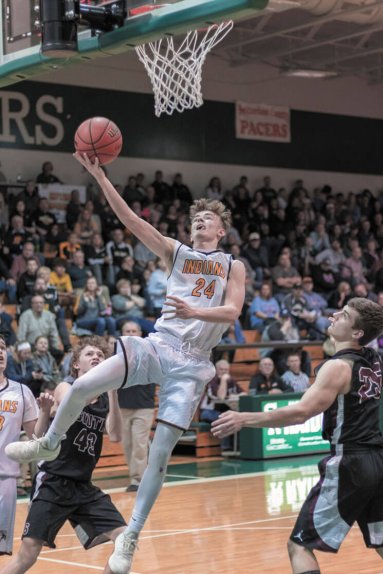 jared rogers photos
The Milan Indians and South Decatur Cougars started off the 2019 IHSAA 2A sectional 45 with an exciting matchup that saw both teams making scoring runs to change the lead throughout. Ultimately, Milan prevailed by overcoming an 11-point deficit in the fourth quarter to win the game by six points and earn the right to play North Decatur in the semifinal round to be held on Friday, March 1. North Decatur drew a bye, so it will be their first game of the tournament.
South Decatur began the first quarter hitting three consecutive three pointers to build a 9-0 lead. That distance held until two minutes to go in the quarter when Indians senior Damon Ward swished a three pointer, and followed with another less than a minute later to rouse his team and pull them back into the early mix. Along with scores by sophomore forward Carsyn Ascherman, the Indians had tied the game at 15 by the end of the quarter.
Joel Norman began the second quarter with his first three pointer of the game, which gave Milan their first lead. A back-and-forth quarter brought the score to 31-30, Milan lead, at the halftime break.
The Cougars came out in the second half displaying strong offensive ball movement, which helped them score three field goals in the first one and a half minutes, which once again turned the tides on the scoreboard. The third quarter ended at 47-40 in favor of SD.
In just over a minute during the fourth quarter, the Cougars hit another field goal and a three pointer, giving them a double-digit lead. Milan's forwards Ascherman and Orrin Schmidt followed with scores on their end of the court, and the board read 54-50 with 4:53 left in regulation.
The Indians made a strong defensive stop coming out of a Cougars timeout. A free throw by Ascherman, and then a three pointer by Joel Norman tied the game up with 3:10 to play. Point guard Peyton Wert then stole the ball on the ensuing Cougars possession, and with a layup, gave his team a lead they would hold onto until the final buzzer.
It was Milan's second win over South Decatur this season, the first coming in another thrilling game, 78-77, held at South Decatur on December 7. Looking ahead, the Indians will need to relinquish an early season loss to North Decatur to advance to the sectional final. That matchup saw ND winning 74-63 on November 24.
Joel Norman led his team in scoring with 15 points, and Carsyn Ascherman followed closely with 14. Adam Norman and Orrin Schmidt both chipped in 10. Rounding out scoring for Milan: Damon Ward six, Peyton Wert five, and Kaleb Rinear two.
Milan shot a dismal 11/23 from the free throw line, a statistic they will likely need to improve upon in order to keep their season alive in the game ahead.