Indians defeat Lancers 61-6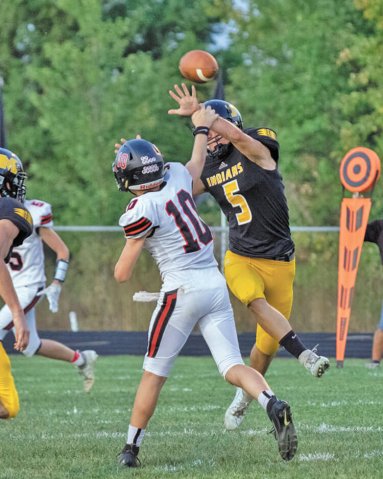 JARED ROGERS PHOTO
The Milan Indians varsity football team hosted the Edinburgh Lancers on Friday, September 27 in Milan, where the home team routed the visitors in a lopsided, 61-6 match.

Milan owned the game from the opening kickoff, when the special teams crew forced an Edinburgh fumble that quickly turned into a touchdown run by quarterback Parker Lewis less than two minutes into the game.

Milan recovered the following kickoff as well, and QB Lewis found wide receiver Peyton Wert for the team's second touchdown just two minutes after the first score.

Edinburgh's offense put together their first effort after those two scores, but were eventually stopped by Milan's stout defense. On the ensuing Indians offensive drive, running back Riley Johnson topped off the first quarter with a 53-yard touchdown run to make the score 20-0 after 12 minutes of play.

The Indians continued their offensive onslaught with four touchdowns in the second quarter. The first came near the 10-minute mark when QB Lewis found receiver Adam Norman for a 10-yard catch. Peyton Wert then assumed quarterback duties to round out the half and scored a 17-yard running TD on his first drive with about 7:30 to play. Cole Steele ran in for a 12-yard score near the 4:30 mark, and Adam Norman topped off the half with his second touchdown catch as the clock neared zero. Those scores tilted the game at 47-0 in favor of Milan.

The third quarter saw two "pick-six" plays, one for each team. Milan's Brayden Rohrig was picked off near the 8:30 mark which resulted in the Lancers' only points of the game. Then, Indians defensive back Carsyn Ascherman returned the favor by picking off the Edinburgh QB and running the pass back for a score.

The Indians topped off the high scoring affair with a one-yard TD run by Alec Barker early in the fourth. The score stood at 61-6 until the final buzzer.

Milan's defense held Edinburgh to only 32 yards of total offense on the night, highlighted by holding the Lancers to negative rushing yards on the game (-19). In contrast, the Indians enjoyed 265 yards rushing, their season high team total. In addition to nine touchdowns, Milan's Ethan Kaulig kicked seven successful extra points.

The win brings Milan to 4-2 on the season. This Friday, October 4, the gold and black will travel to Oldenburg for a conference matchup against the Twisters. Milan won last year's game by a score of 44-8. The Twisters are currently 3-2 on their 2019 season, with wins over Rock Creek Academy (42-6), Edinburgh (26-12), and Switzerland County (20-14). OA lost their two games to North Decatur (39-7) and Park Tudor (28-24). A cool front is set to move in by Friday, with clear skies and a high of 70 forecasted for the game.