Indians defeat Panthers 3-0 in sectional opener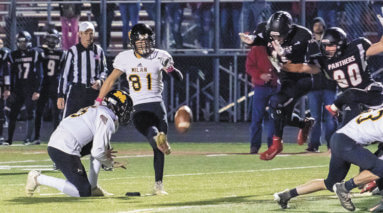 JARED ROGERS PHOTO
The Milan Indians football team traveled to Knightstown on Friday, October 25 for their opening Class A Sectional 47 match against the hosting Panthers, and came away with a 3-0 win.

That field goal came at the 6:19 mark of the third quarter thanks to kicker Ethan Kaulig, who booted the ball through the uprights despite pressure from the Knightstown defense.

Defense was the theme for the game, played under chilly October skies. Both teams opened the night with three-and-out offensive attempts, with many punts sailing back and forth throughout the game.

Led by senior quarterback Parker Lewis, Milan's offense showed spurts of potential, but could never put together a full drive to visit the endzone. Receivers Adam Norman and Matt Schmitt both caught and ran for nice gains in the first half. Running back Logan Reed broke free for a long run in the third quarter that ultimately helped his team kick the winning field goal.

Aside from those glimpses of offensive prowess, however, Milan struggled with turnovers, both in the form of interceptions and fumbles. Thanks to the brick-wall defensive show led by seniors Dakota Sams and Zach Hauser, though, none of those errors ever proved fatal for the gold and black.

With the win, the Indians improved to 8-2 on the season and advance to the semifinal round of the sectional. The Indians went the entire month of October without letting an opponent score a single point. The team gave up six points to Edinburgh back on September 27 en route to a 61-6 win, and have proceeded to shut out their next four opponents, including Knightstown.

The tribe will host Hagerstown, who defeated Oldenburg Academy in their opener by a score of 28-14 to improve to 4-6 on the season. For reference, Milan and Oldenburg met in early October where the Indians defeated the Twisters by a score of 48-0.

The Hagerstown Tigers are ranked 38th in Class A Sagarin ratings, compared to Milan's 11th place rank. Of shared opponents, the Tigers fell to Knightstown by a score of 21-0 in their home opener back in August.

The Milan-Hagerstown matchup is set to kick off at 7:00 p.m. at Milan this Friday, November 1.