Indians erase first quarter deficit, head to sectional finals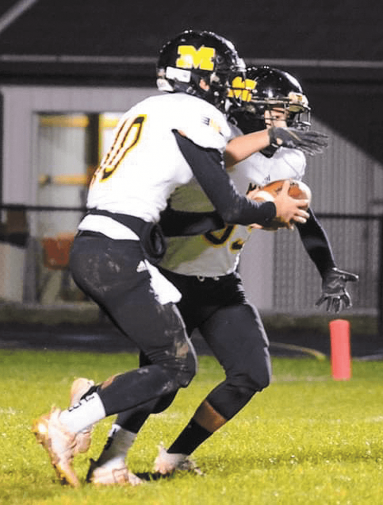 Photo by Teri Bockstahler-Barker
Milan trailed 14-0 at the end of the first quarter but responded in a big way soon after, outscoring Tri 35-7 the rest of the way en route to a 35-21 victory over the host Titans in the IHSAA Class A Sectional 47 football semifinals this past Friday night.

The victory runs Milan's win streak to three games and punches a ticket to the sectional championship game for the second-straight season.

Tri (8-3) scored inside the first three minutes of the first quarter and led 14-0 by the end of the frame on a score with 52 seconds to go but as quick as the Titans led, Milan just as quickly surged in front.

Peyton Wert connected with Adam Norman on a 77-yard touchdown pass that was followed by a Josh Clark extra point and the lead was trimmed to 14-13 with 1:53 left in the first half when Carsyn Ascherman lofted a ball to Wert for a score. Milan was able to get the ball back with under a minute remaining and took its first lead on a Logan Reed touchdown and Wert two-point conversion for a 21-14 advantage at halftime.

A Wert touchdown run put Milan's lead at 28-14 before Tri was finally able to shake free and add to the scoreboard, cutting the deficit 28-21 with 1:08 left in the third period. The score stood until seven minutes remaining in the game when Wert found Norman again for a touchdown pass and Clark hit his third extra point of the night, ultimately putting the game out of reach.

Milan's well-balanced offense prevailed, racking up 391 yards of total offense including 250 yards through the air. Wert was 10-of-18 passing for 238 yards and two scores while Ascherman added the other touchdown through the air on his 12-yard pass. Norman was the top target, leading all receivers with 180 yards on seven catches and two touchdowns.

Wert led the rushing attack with 91 yards and a touchdown on 17 carries. Milan had six players with at least one carry in the game, combining for 141 yards on 30 carries.

Tri was led by Tyler Kingery who had 180 yards on the ground on 21 carries with two scores. Vade Dishman had a score and 105 yards on 13 carries. Quarterback Syrus Butler was 0-of-4 passing including an interception that was picked off by Norman.

Milan (8-3) visits Class A No. 13 North Decatur in the sectional championship on Friday at 7 p.m. The Chargers (9-2) shutout Knightstown 42-0 last Friday in the other sectional semifinal.