Indians hang 68 on Cougars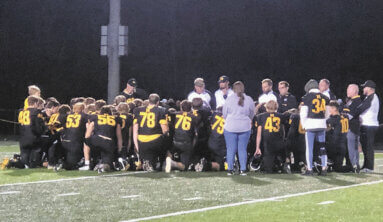 PHOTO BY TERI BOCKSTAHLER BARKER
Milan football wanted to make an early postseason statement last Friday night and the Indians succeeded in that department, totaling up points in a hurry en route to a 68-6 drubbing of South Decatur in the opening round of the IHSAA Class A Sectional 46 Tournament.

The Indians have now won four-straight opening round sectional games. 68 points scored is the most Milan has put up on the scoreboard since a 62-0 shutout win against Edinburgh on September 25, 2020.

South Decatur (5-5) was blasted from the get-go as Milan put up 22 points in the first quarter and followed it up with 27 points for an overwhelming 49-0 halftime advantage. With the running clock mercy rule in effect for the entire second half, the Indian offense slowed down to an extent but still managed 19 points in a fast-moving final two quarters of play. The Cougars scored their only six points in the fourth frame.

As expected, Milan's run game dazzled, totaling 405 yards of the team's 436 yards of total offense. Riley Johnson carried the ball only 11 times but rushed for 175 yards and four touchdowns and sophomore Austin Green scored twice on three carries and 46 yards. Freshman Wyatt Marsh put together four carries, 68 yards and a touchdown while Brayden Rohrig had two carries, 53 yards and a touchdown. Jonny Volk had three touches for 60 yards.

Rohrig completed 1-of-2 passes and the completion went for a score. The senior quarterback hit Ethan Pierce for a 31-yard touchdown.

The Indians forced five turnovers on defense all via fumble recoveries. Mason Green recovered two fumbles while Johnson, Pierce and sophomore John McKeown all recovered one. South Decatur's Corbin Johnson was the only player who was able to do any damage, totaling 110 rushing yards on 21 carries with a touchdown. The Cougars were limited to just 130 yards of total offense.

Milan (5-5) gets a major test in this Friday night's sectional semifinal when they face Class A No. 3 North Decatur (10-0) on the road. The Chargers, who have knocked out Milan in the sectional the past three seasons, defeated No. 7 Tri 22-8 last week in the opening round.